measure the emotional impact of advertising
Subtext® is the only ad test that reveals how emotion changes the minds of consumers towards a brand.
Advanced Subconscious Research Methods
SUBTEXT AUTOMATES BEHAVIORAL SCIENCE BY COMBINING THESE CRITICAL SUCCESS METRICS
Eye Tracking
Measure interest level generated.
Online eye tracking with visual saliency analysis reveals the average percent of valid fixations during time-course of content exposure expressed as a percentile rank against normative benchmarks.
Facial Action Coding
Measure the degree of emotional response.
Sentient Expression® facial action coding technology indirectly measures the strength & valence averaging the degree of emotion expressed as a percentile rank vs. normative benchmarks.
Memory
Measure impact of brand recall & perceptions.
Sentient Prime® implicit platform measures speed & accuracy of brand recall as well as implicit perceptions revealing depth of memory encoding expressed as a percentile rank against normative benchmarks.
Desirability
Measure impact of near-term demand.
Choice tests measure the percent difference in brand preference due to ad exposure calculated by equally weighting lift in near-term & long-term measures expressed as a percentile rank against normative benchmarks.
The Subtext research presentation compares & contrasts observations, synthesizes results, highlights key insights & provides recommendations for application.
Executive Insights Summary
Research Directors diagnose the pro's and con's of the ad.
Subtext Scorecard
Compares and ranks your ad against normative database.
Emotional Memory AnalysisTM
Uncovers if the ad is memorable to different targets.
Proportion of EmotionTM
Discover what emotions are being invoked in the advertisement.
Desirability Assessment
Reveal whether the ad increases desirability towards the brand.
Includes Data Tables
Providing all implicit and explicit measures captured.
Subtext includes both predictive success metrics as well as frame-by-frame opportunities to optimize content.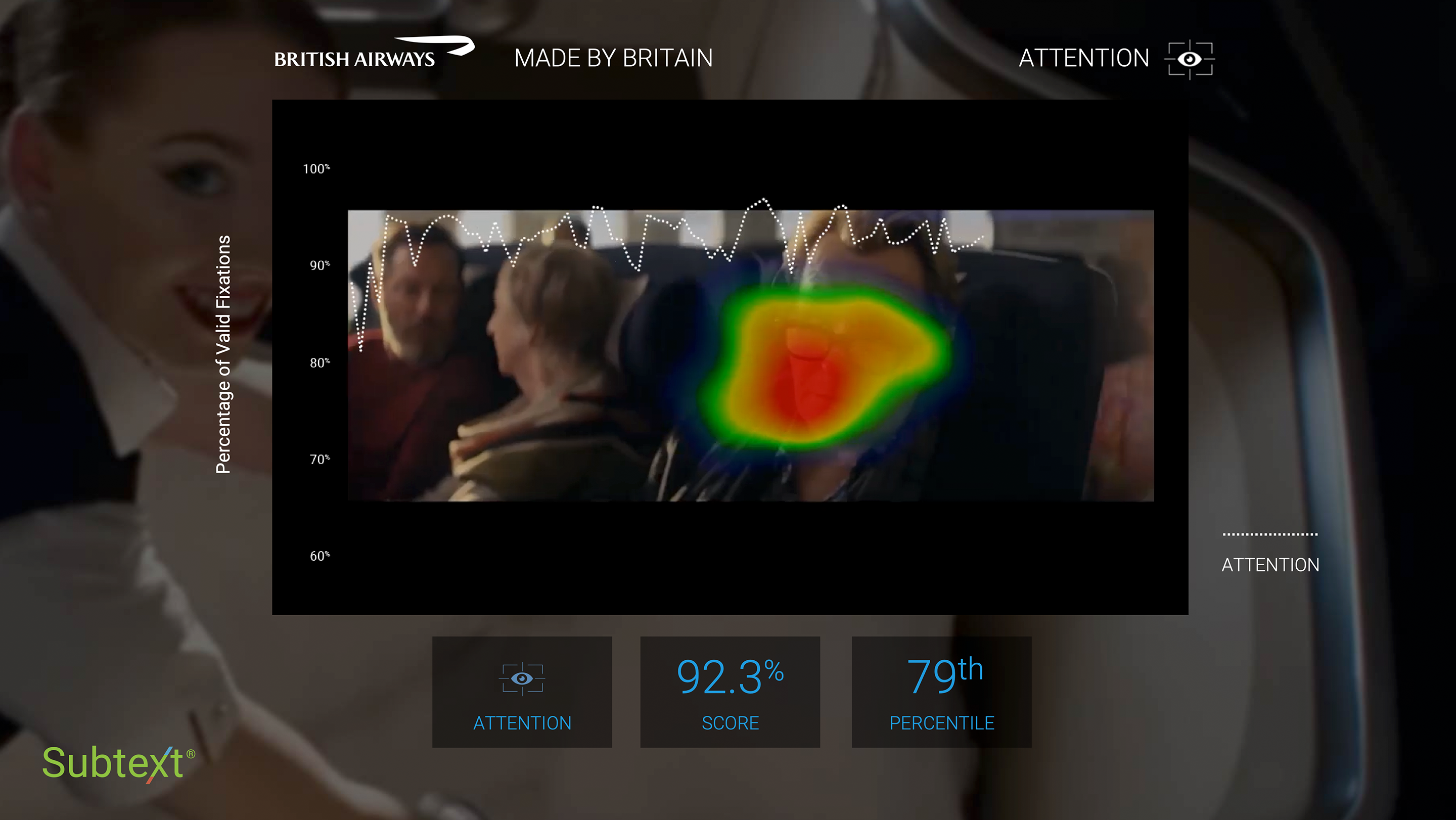 X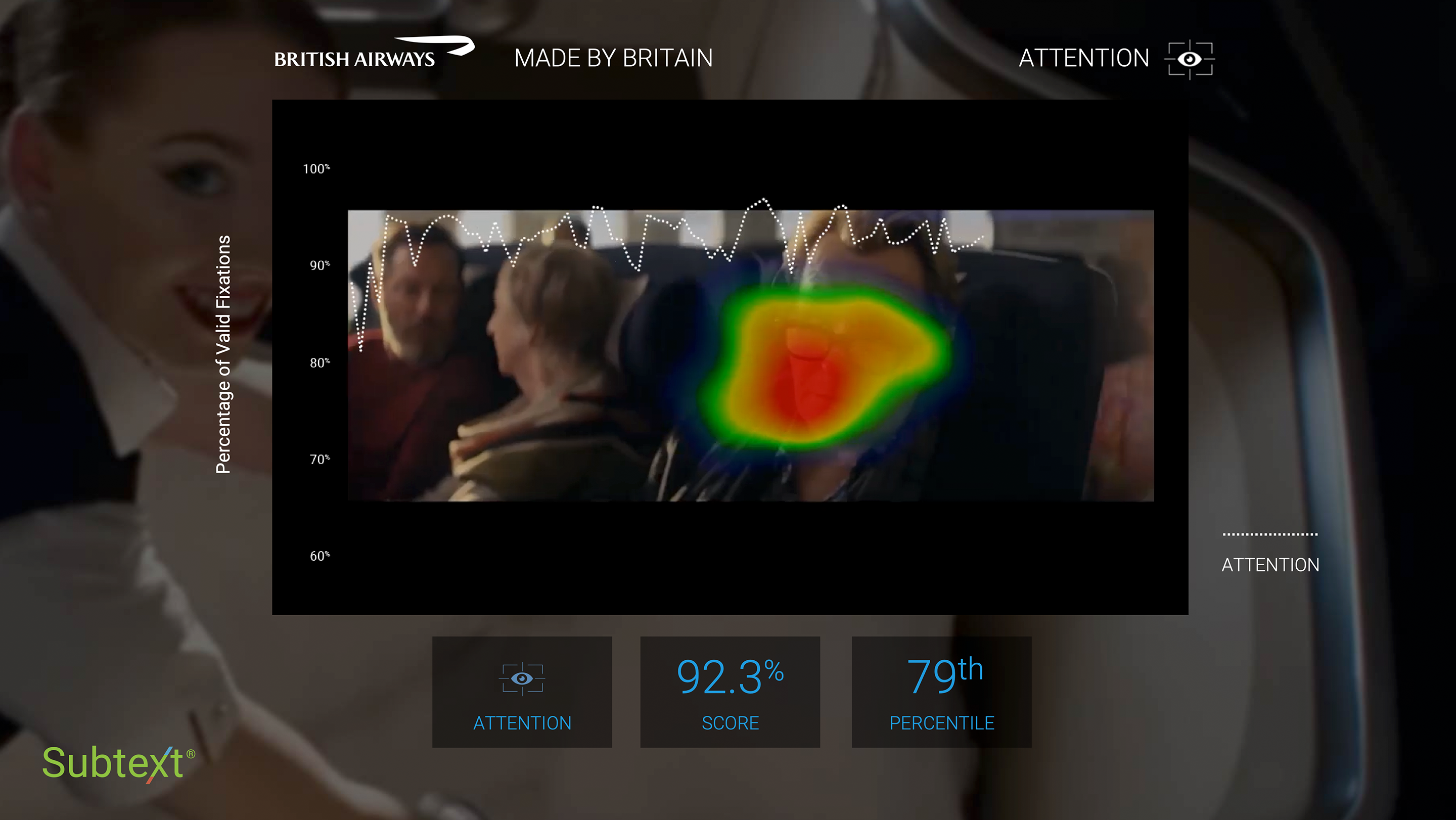 Moment by moment Attention score & heatmap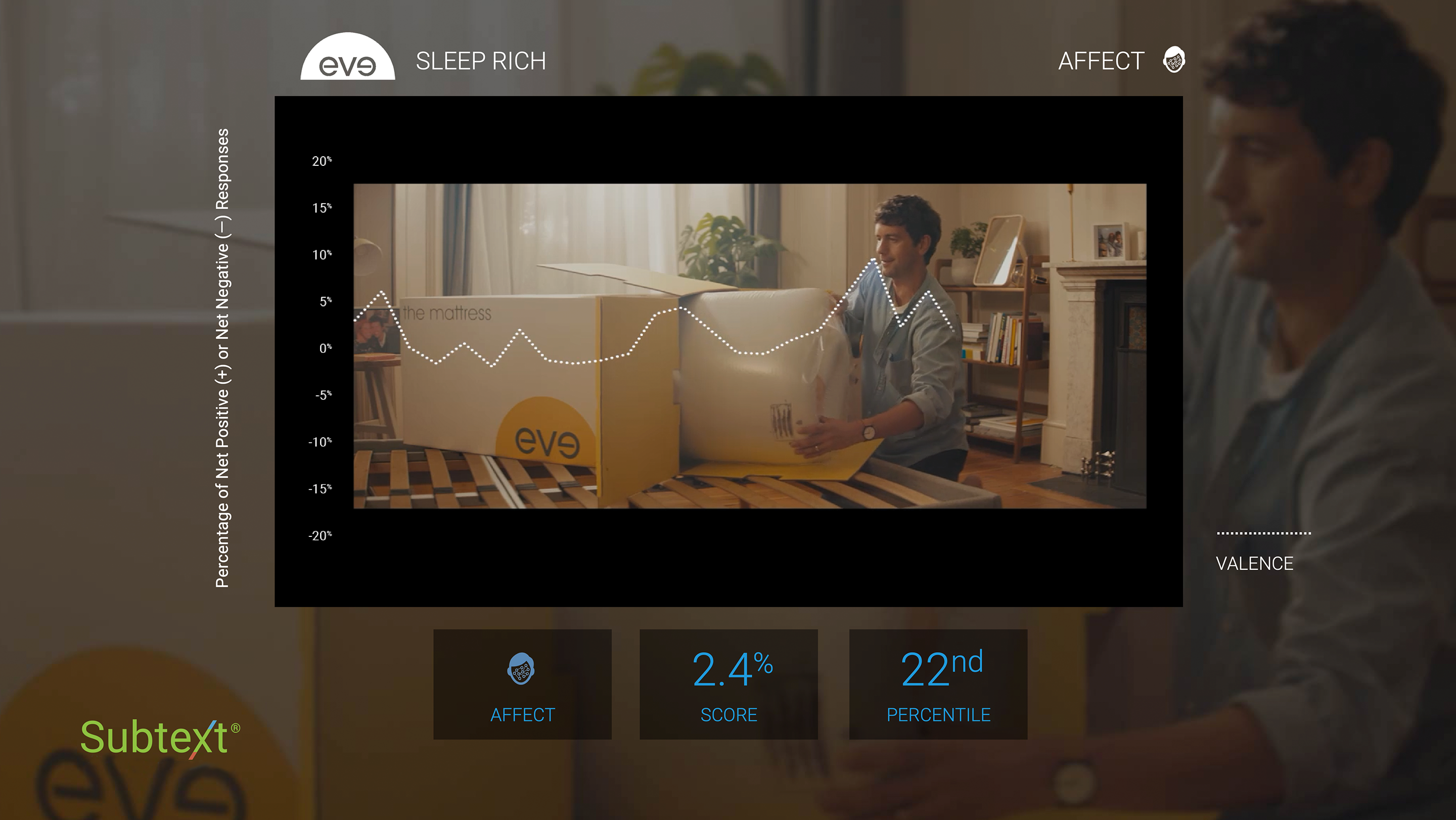 X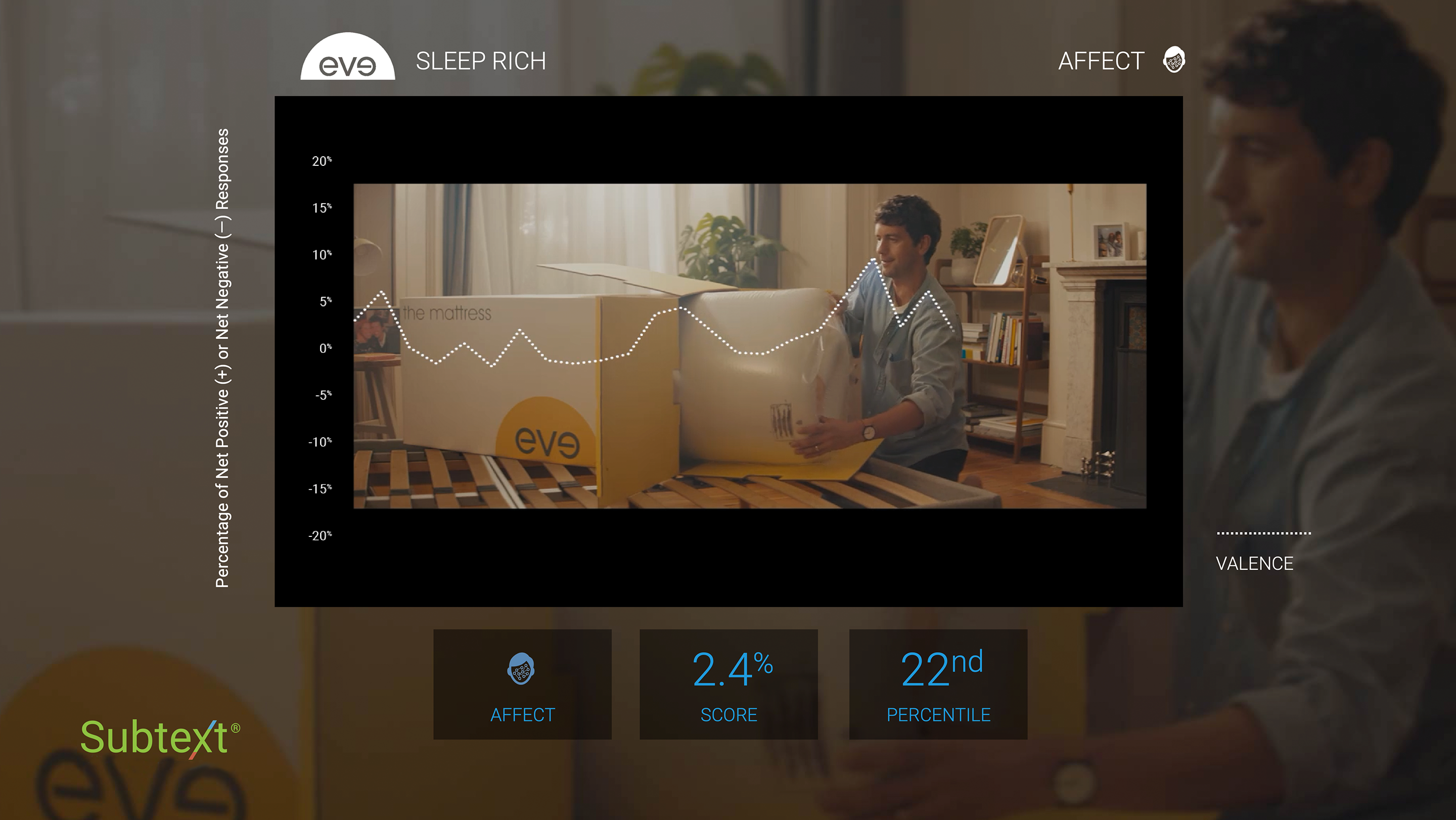 Overall Affect of an ad measures positive valence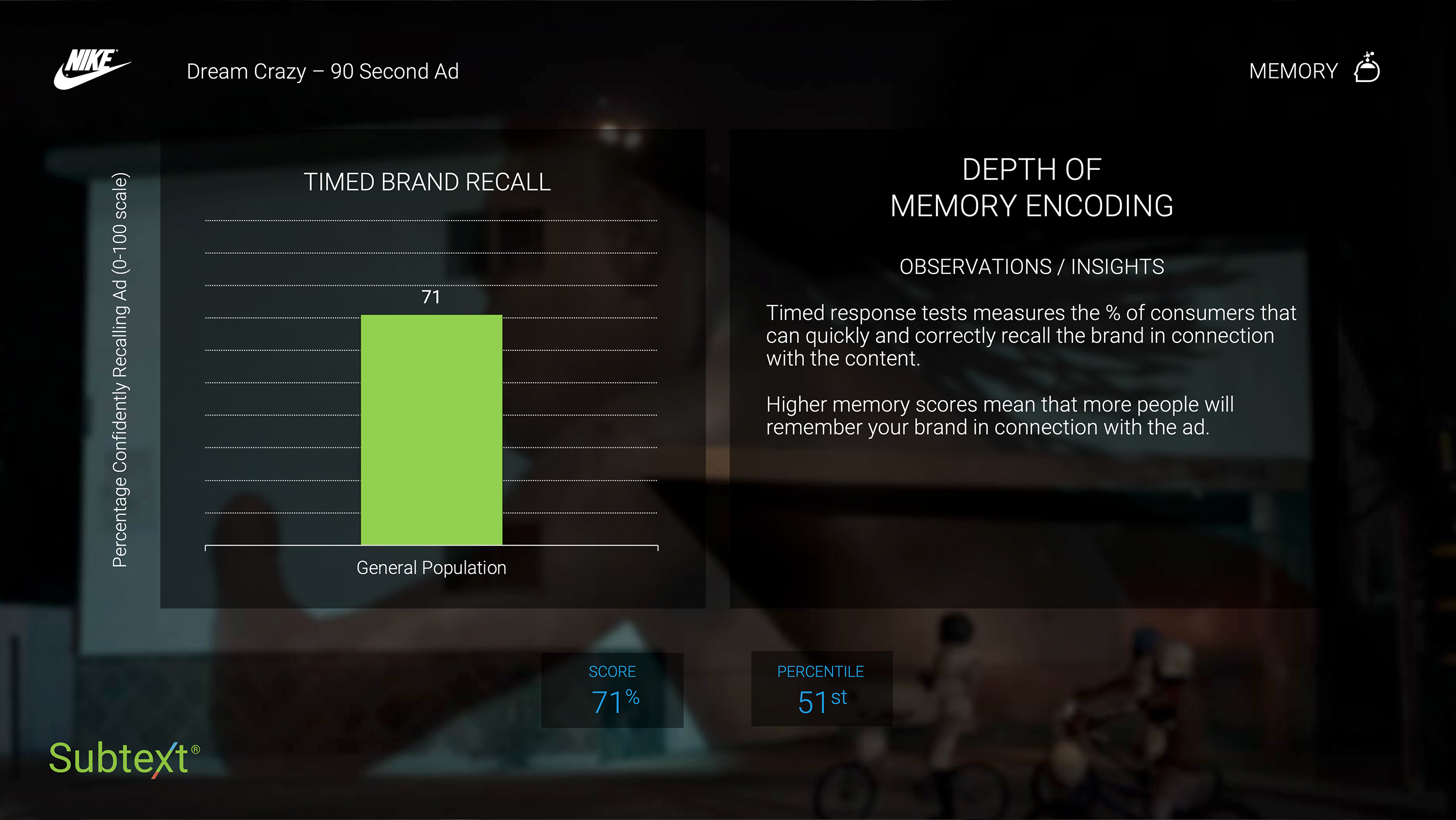 X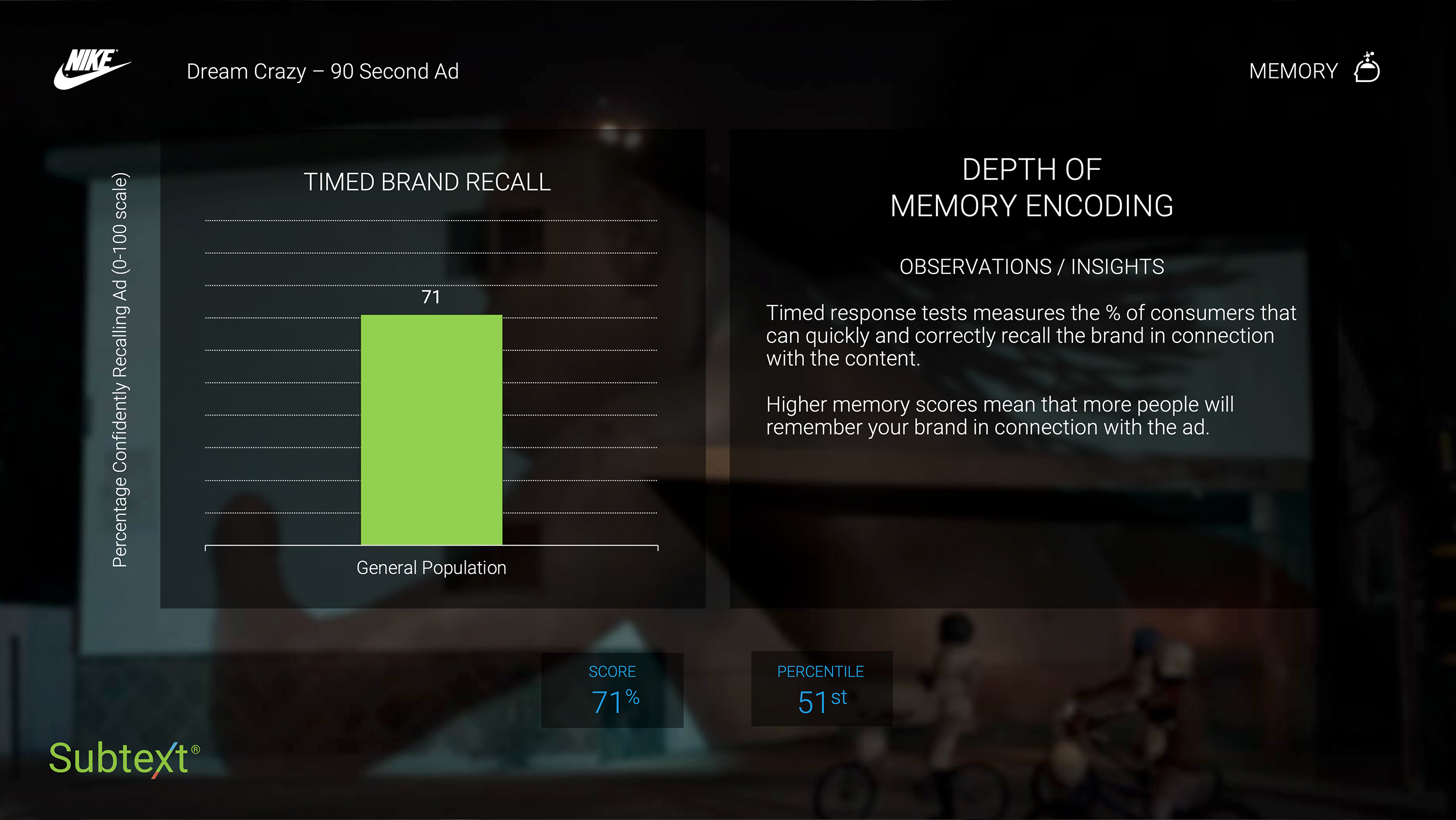 Reveal strength of Memory and the effects of ad exposure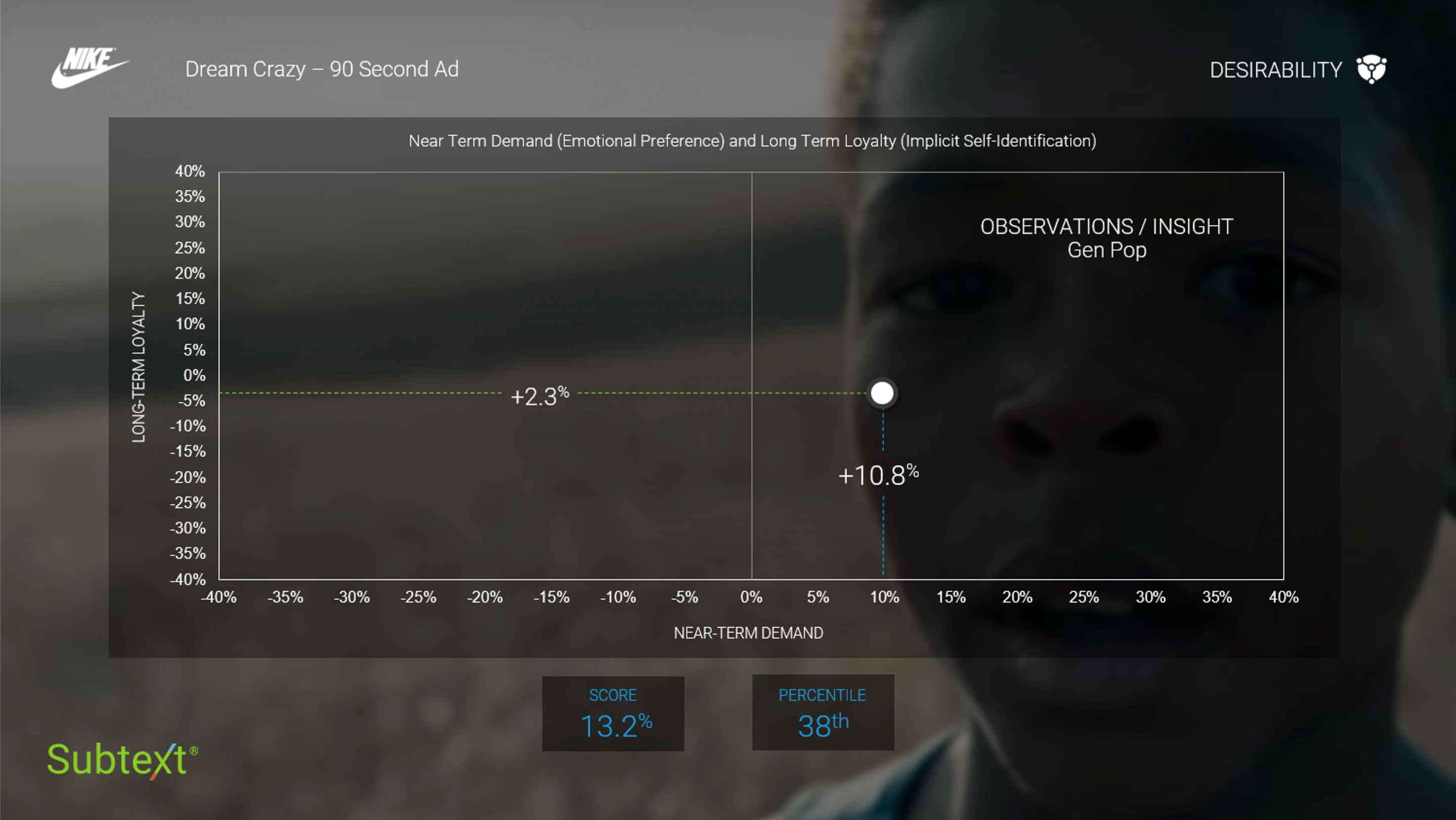 X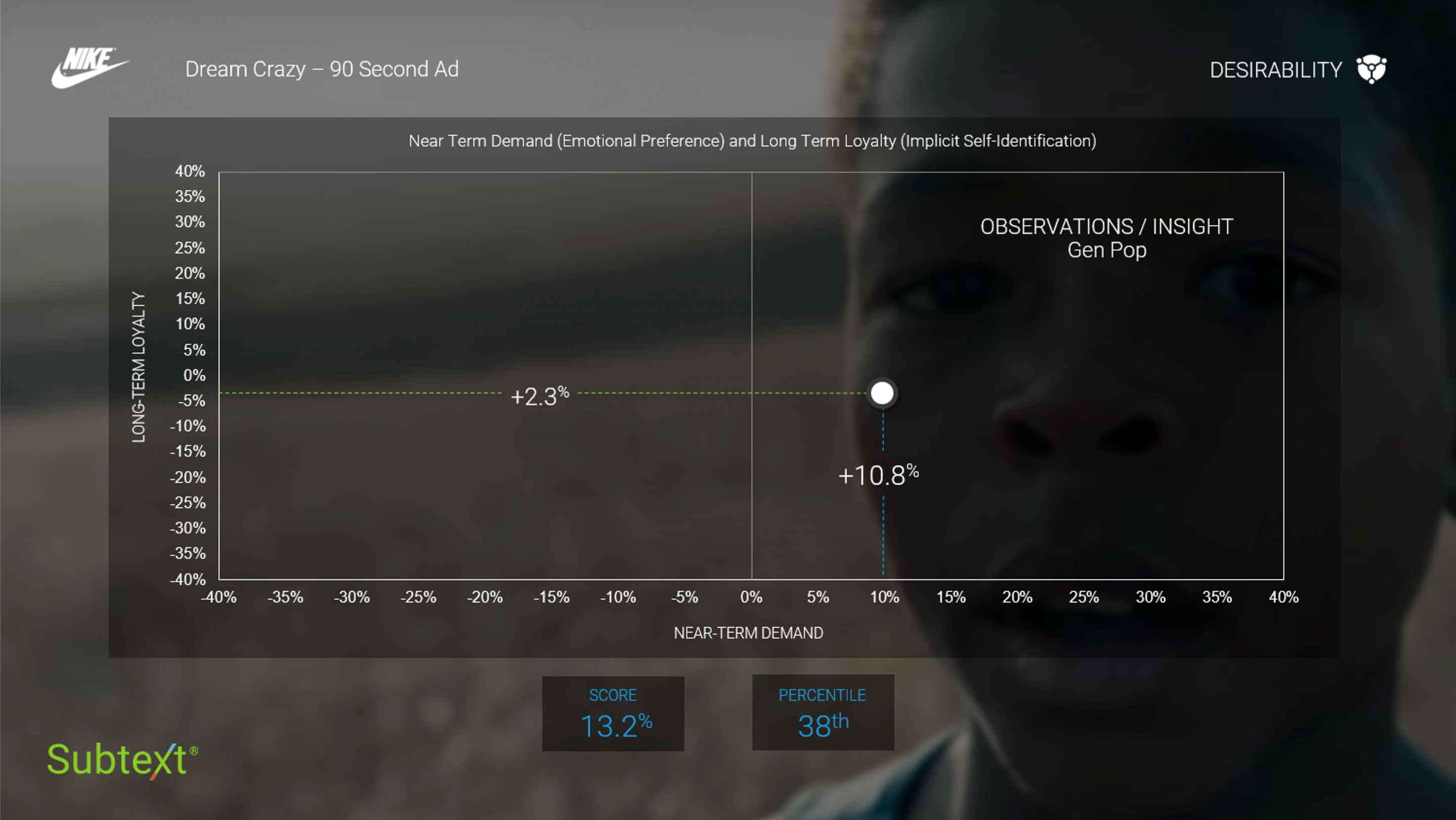 Predict the Desirability of an Ad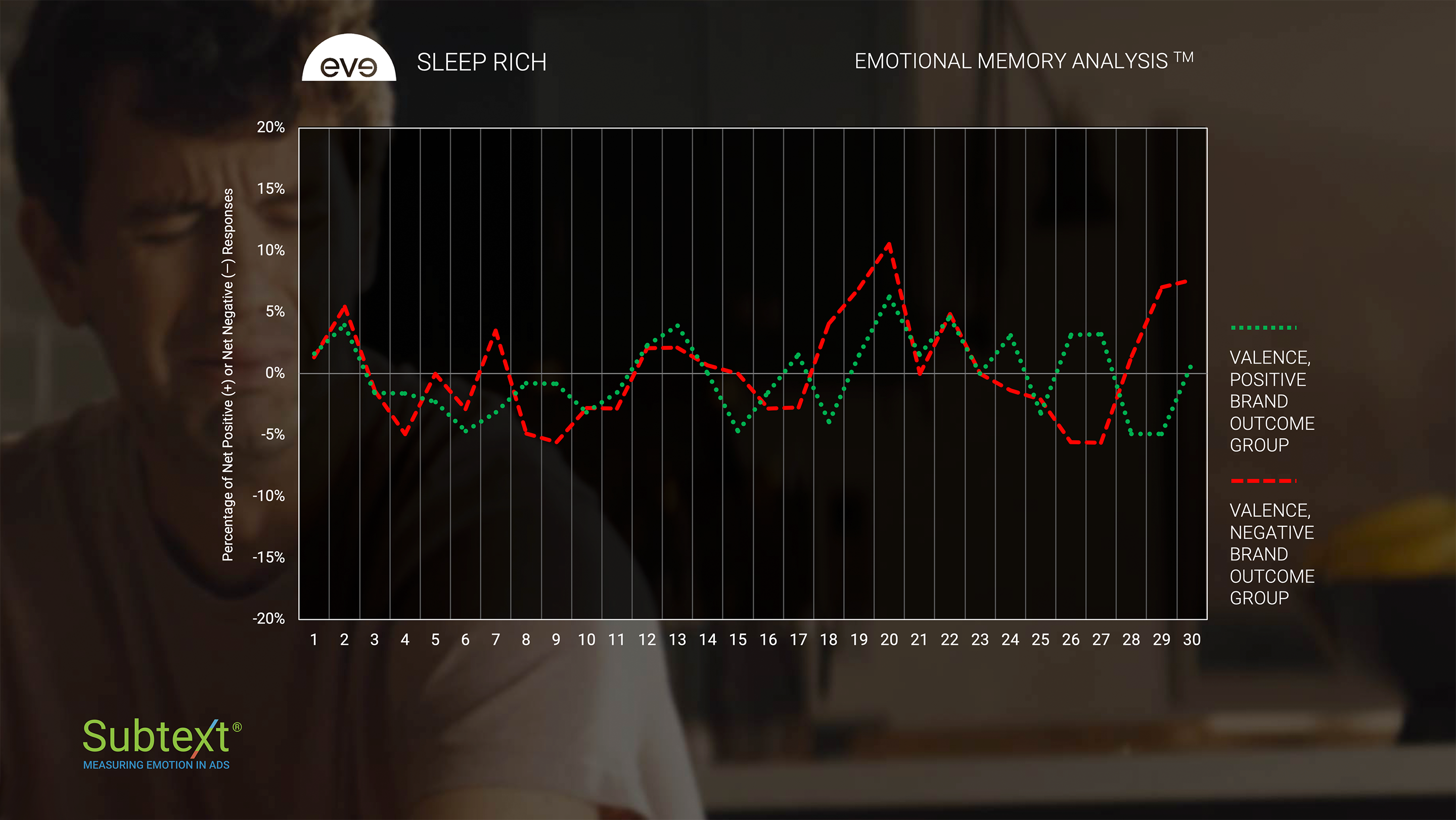 X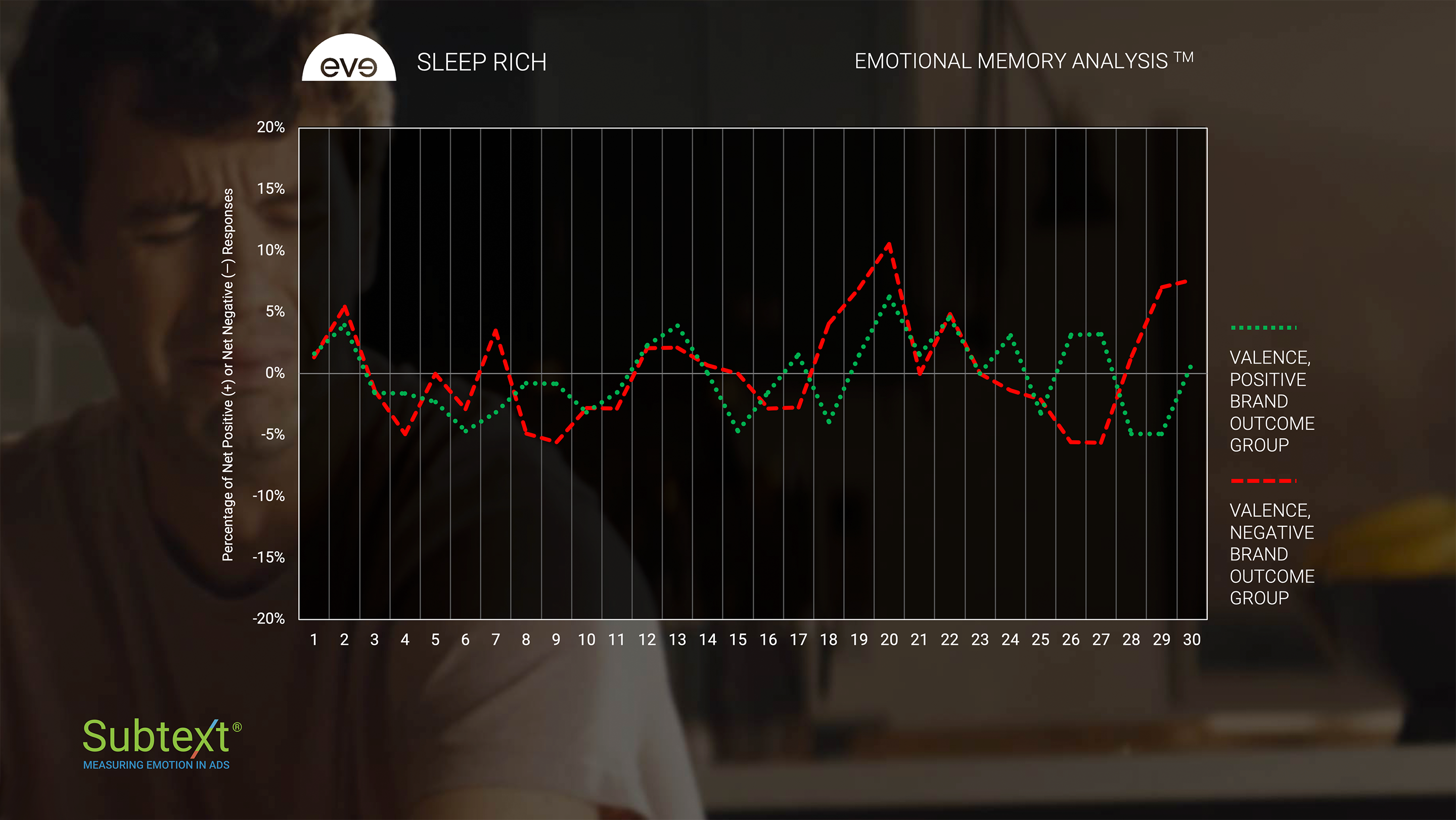 Emotional Memory Analysis reveals valence of positive and negative outcome groups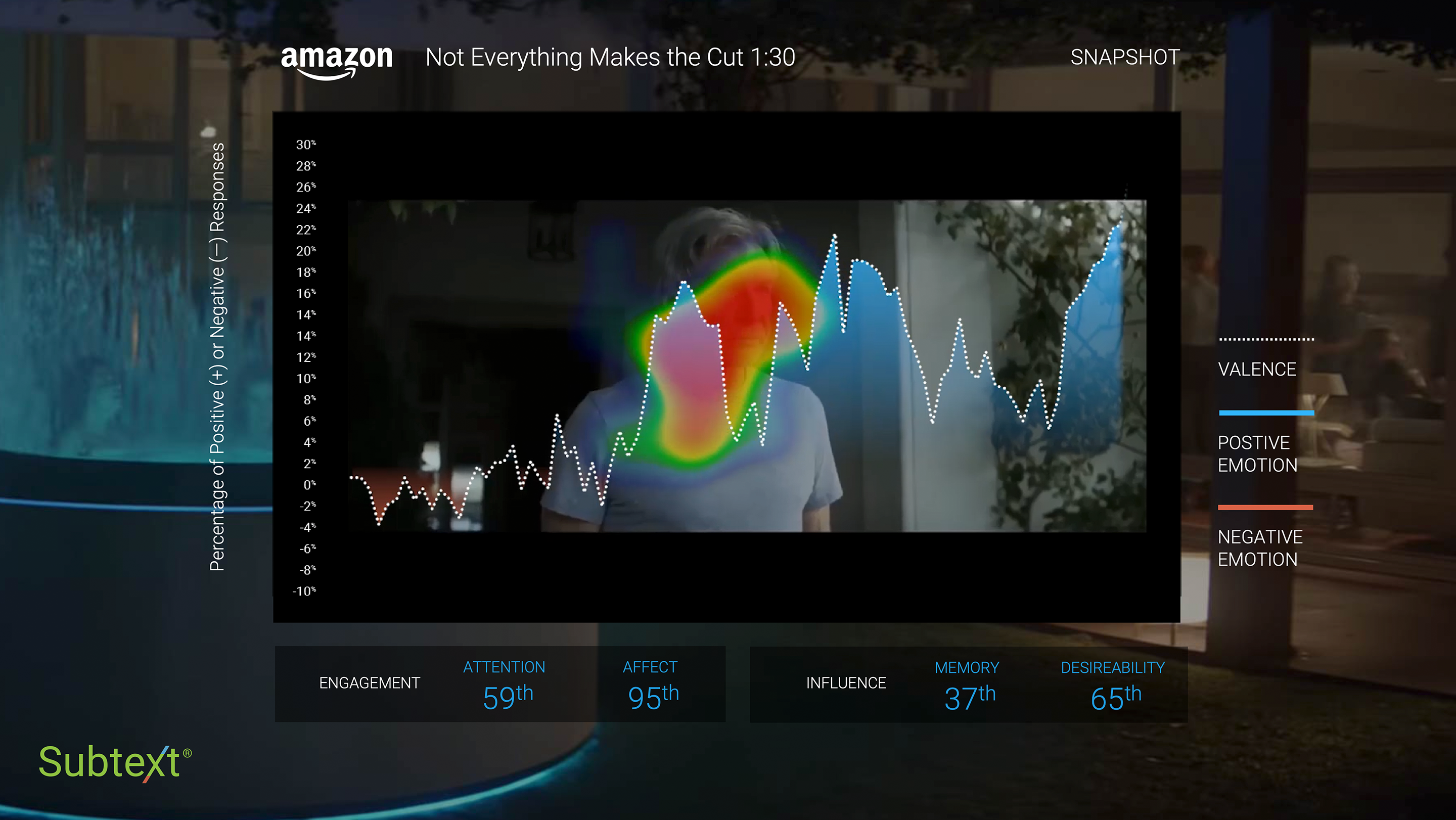 X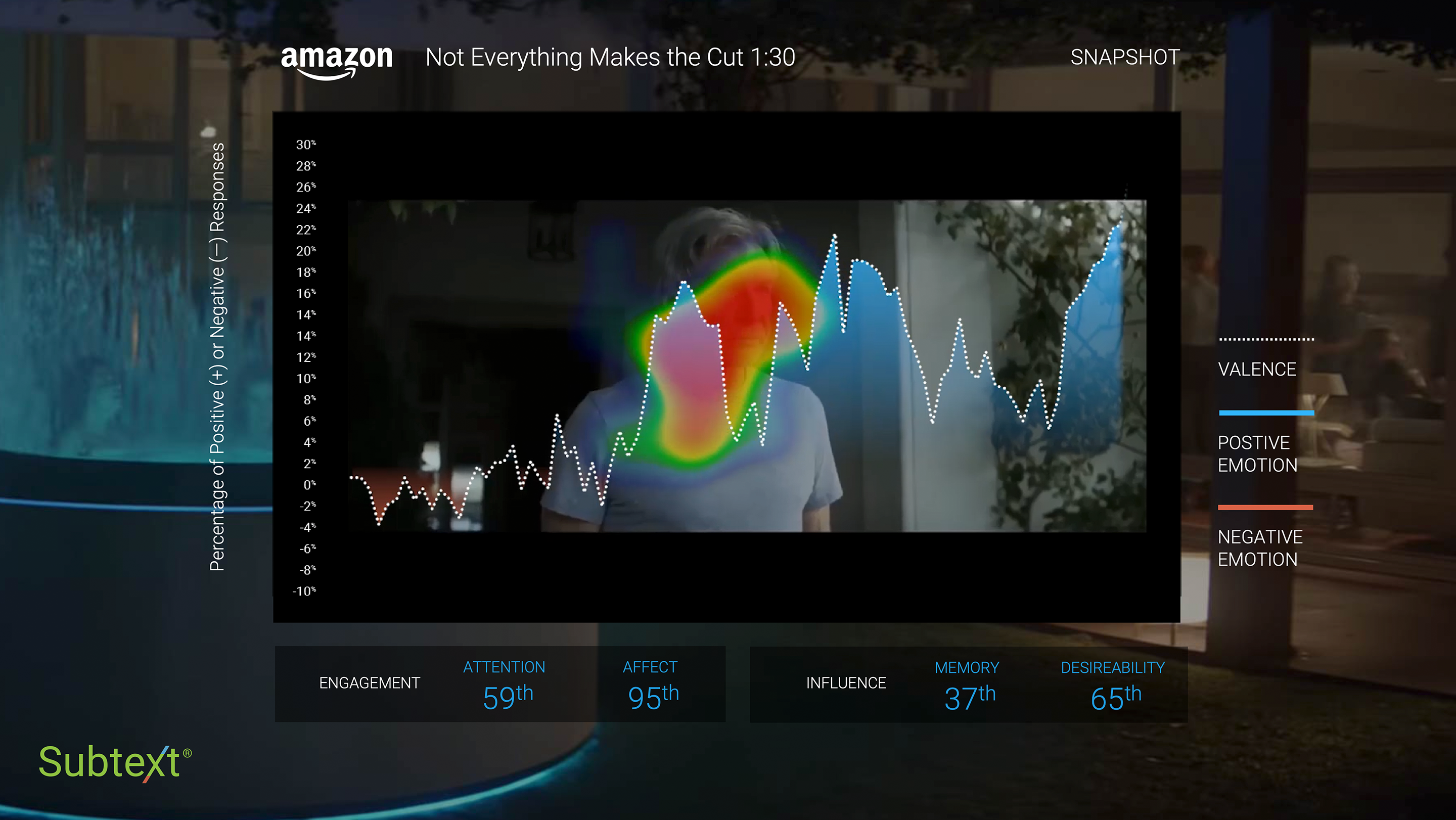 Advanced Subtext visualizations reveals deeper insights
SUBTEXT WORKS ACROSS ALL CONTENT TYPES & PLATFORMS
Based on fundamentals of human behavior, Subtext metrics are media agnostic, and can assess many different types of communications channels.
TV ADS
ONLINE ADS
MOBILE ADS
SOCIAL ADS
IN-STORE ADS
OUTDOOR ADS
PRINT ADS
ANIMATICS
STORYBOARDS
Stress Test More Ads with RAPID Subtext
RAPID Subtext is a fast, affordable ad testing tool that reveals how the emotional experience of your marketing is related to change in implicit perceptions of your brand, helping you diagnose problems and avoid costly mistakes.