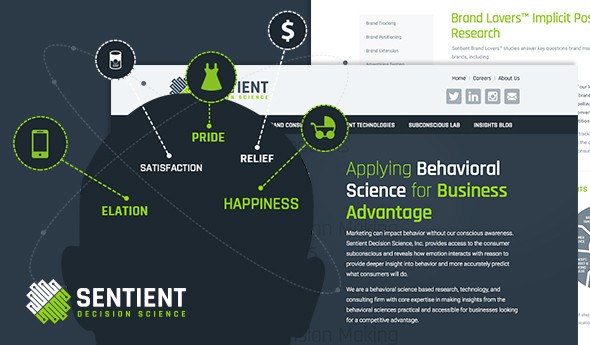 Our journey from the early 2000s on making insights from the behavioral sciences practical and accessible for business has been intellectually stimulating and exceptionally rewarding.
As the applied consumer neuroscience market research industry has advanced in recent years, so too have Sentient's services and product offerings as we continue to advance human understanding of the drivers of behavior. We recently launched a new website that reflects the current breadth of our firm's behavioral science-based research, consulting and technology services.
We understand the importance of brands evaluating and evolving to best serve the needs of an ever-changing client base, and our organization is no different. We've come a long way since 2007.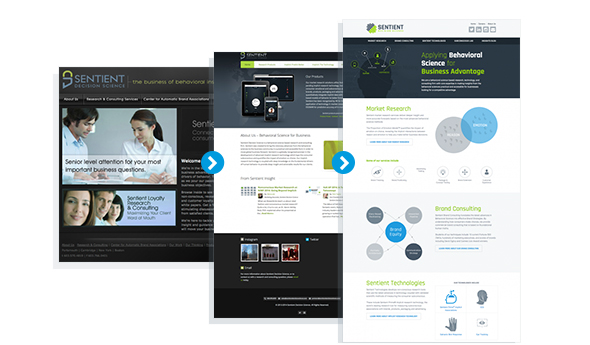 What's New on Our Website
Our new site makes it easier for our clients and the market research community to access our market research insight, brand consulting services and implicit research technology.
Improved Accessibility & a Better Blog
To serve our readers the content you value most, we've reorganized our site by most-frequently searched categories. We've also made it easier to find what you need–including our implicit market research blog posts, where we share relevant, cutting edge ideas about the implicit market research industry. You can now subscribe to our enhanced blog, here.
Easy Access to Our White Papers
Some of our most popular pieces are Sentient's white papers and you can now access all of our longer-form publications on our new publications page; you are welcome to download any or all of our white papers and academic literature there.
Branding Update: A Reimagined Logo
We've also evolved our brand mark. Sentient's new branding, tested of course for implicit impact with Sentient Prime® implicit association testing software. See if you can find the implicit "nods" to the brain, human emotion, the associative nature of the mind, technology processing, and of course, our ever present repeating Sentient "S".
Explore the New and Improved Sentient Decision Science
We invite you to take a few minutes to explore our brand new site for yourself. Check out our brand positioning services or take deep dive into our advanced research methods.
Peruse the Sentient Consumer Subconscious Research Lab to learn about our fundamental human psychological research program or read a few posts on our insights blog for practical application of behavioral science to business, then reach out to us on Twitter, LinkedIn, or Instagram to let us know what you think!