The Golden Age of Research is Here – IIEX North America 2022
Dr. Aaron Reid presented a brief history on the reasons why non-conscious measures are growing rapidly in popularity due to the limitations of traditional research methods at the recent IIEX North America 2022 conference in Austin, TX. Making the case that the market research industry is now capable of getting an accurate read on how people feel, and why. The increase in adoption of emotion-based insight tech is due to the deeper intelligence it provides, improving creative output and predicting market performance.
While presenting evidence of leveraging behavioral science for more accurate forecasting, Dr. Reid emphasized the ability to even measure the impact advertising has on diversity and inclusion. The case studies shared uncovered the positive and negative implicit associations for Snickers' "Uncensored", Uber Eats "Don't Eats" television advertisements, and the jaw-dropping Oscar's incident of Will Smith slapping Chris Rock.
Using Subtext, our subscription-based communications testing platform, attendees witnessed first hand how consumers implicitly felt towards brands pre and post exposure to their ads. Dr. Reid revealed, for example, that the Snickers ad had a positive impact on attributes like "funny", but a negative impact on attributes like "delicious". Will Smith's slap "heard around the world" made consumers implicitly feel more "disgust" and "shame" towards Smith post-exposure to the scene.
Key Takeaways:
The Central Limit Theorem does not make samples of opinions accurate predictors of future behavior.
The future of our industry is not PowerPoint decks delivered via email. It is automated behavioral science delivered within immersive emotional intelligence platforms.
Brands can authentically enter the age of inclusivity by measuring the impact of communications on biases toward groups of people.
Insights jobs in the Golden Age of Research Tech will focus on:
Building scientific design within automated products
Integration of multiple data streams of behavioral intelligence
Inspirational storytelling from analysis of the output of those products
Watch the full IIEX presentation below and discover why The Golden Age of Research is here.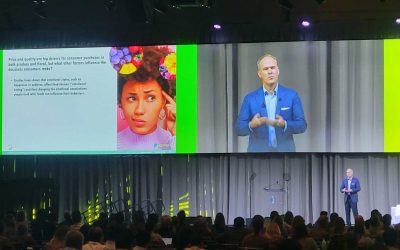 Dr. Aaron Reid of Sentient Decision Science spoke to hundreds of attendees about the subconscious food drivers of consumers at the Global Produce & Floral Show last week in Orlando. Dr. Reid discussed the current challenges  marketing is facing...