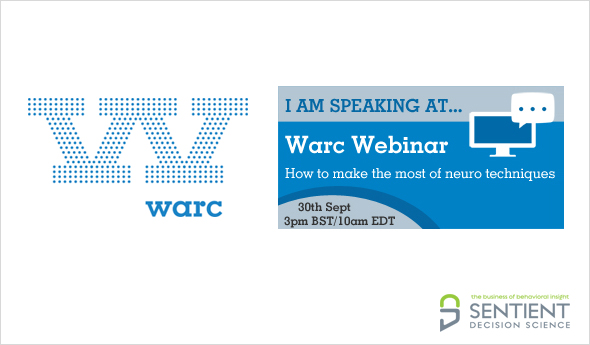 Dr. Aaron Reid, Ph.D. and Chief Behavioral Scientist at Sentient Decision Science, will present live at the "How to Make the Most of Neuro Techniques" Warc Webinar Tuesday, September 30 at 10 a.m. EDT. Reserve your free spot, now.
Warc helps clients grow their business by providing them with actionable insights, best practices, and evidence-based advertising solutions from successful brands across the globe.
"How to Make the Most of Neuro Techniques" Webinar
Transformational changes and new techniques have enhanced neuro insight generation and application. The growth in adoption of neuro techniques is unprecedented and shows no sign of slowing down.
Join Thom Noble (Founder, NeuroStrata), Sanna van Geldermalsen (Neuromarketing Researcher, Neurensics), Aaron Reid (Chief Behavioral Scientist, Sentient Decision Science) and Michael E Smith (Director of Industry Relations, Nielsen Neuro) to:
Find out how marketing and advertising agencies are blending new neuro techniques and tools together
Hear Sanna van Geldermalsen's case study of a leading Dutch mortgage advisor and how they used fMRI as a pre-testing tool
Explore Aaron Reid's case study into how PepsiCo used implicit response testing to help them create a new roadmap for brand extension
Learn from Dr. Michael Smith about the emerging technology designed to enable next-generation neuroscience that will give major brands global consumer insights through large-scale measurement of brain activity
Register now. Not able to tune into the live webinar? Not to worry–all registrants will receive a link to the recording of the webinar so be sure to register even if you are unavailable to watch the live session.
Have extra time? Register for Dr. Aaron Reid's "How to Measure 26 Consumer Emotions with Non-Conscious Research Technology" webinar directly following Warc at 11:30 a.m. EDT.