Watch as Sentient's Joe Sauer and Saatva's Joe McCambley present at CMO Club's Roundtable
"The learnings I've had with Sentient have challenged my conventional wisdom in many ways. I have always been a big believer in storytelling but I haven't always been a big believer in using data to tell stories.  I have learned from Sentient that data can be a powerful partner when it comes to telling stories."  —Joe McCambley, CMO, Saatva
Watch here as the CMO Club welcomes  Joe Sauer, SVP & Managing Director of Sentient Decision Science and Joe McCambley, CMO of Saatva, the luxury mattress and bedding brand to discuss the latest innovation in understanding how consumers feel about buying a mattress and highlight how brands are focusing on the essential emotional drivers to build messages, assets and campaigns that trigger emotional responses. According to USA Today, the online mattress business went from "nothing to a $1.5 billion dollar business in the blink of an eye."  The global mattress market was valued at $29.63 billion in 2021 and is expected to reach $42.84 billion in 2028. The explosion in the Mattress Economy does not look like it is giving up any time soon. In this video, Joe McCandley shares how he's come to rely on Sentient's technology ,"You'll completely underestimate how powerful this methodology is. You have to experience it for yourself and feel what the consumer is feeling through the research to get an understanding that this works." Watching this CMO Club interview you will learn:
What are some of the "emotional drivers" that come into play in mattress marketing?
How much does emotion play into the decisions that consumers make and how this has this changed with technology more readily available.
How Sentient Insight's technology identifies competitive opportunities for the Saatva brand
As the leader in the advancement of behavioral science methods and technology used to quantify and measure emotion, Sentient Decision Science will show:
 The importance of understanding emotion evoked after exposure to messaging 

The new technologies that measure the true implicit emotional response to that messaging

A foundational understanding of the tools and technology available today to quantify and measure human emotion
In this unprecedented oversaturated media market, CMOS are constantly faced with the "can't say", "won't say" conundrum in market research.  Leading brands like Saatva are gaining a creative and predictive edge using automated emotion measures that Sentient Insights' products offer.
 We realized that things like google surveys were asking people about what they thought  they felt and what they believed, was not going to be as reliable as looking at their behavior and trying to learn their behavior. So that was when we first did some research to see who could actually help us look at, help us uncover what people actually believed not just what they said. That's how we were first introduced to Joe Sauer and Sentient." – Joe McCambley CMO Saatva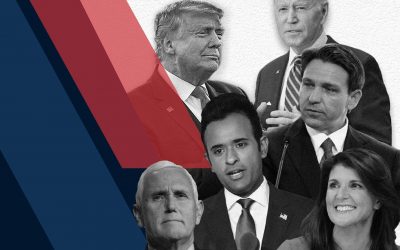 Can one of Trump's Republican opponents secure the vote for the GOP nomination, or are we gearing up for a rematch of the 2020 election? Given poll standings, for the third readout of our Implicit Appeal tracker we elected to focus primarily on...