Tracking the five generations to understand implicit attitudes
The QUIRKS event in Chicago provided us with some great insights this year, including Sentient and PureSpectrum who gave a new look into the true current attitudes of the U.S. populous by generation. This Generational Emotion Study combines System 1 and System 2 measures to unlock a deeper understanding of the mind-sets of each generation. Arianne Larimer from PureSpectrum and Dr. Aaron Reid reviewed how these generations feel about work, money, climate change, their resent past, present, a post-COVID-19 world and their future. The study leverages Sentient Decision Science's patented behavioral science-based technology – Sentient Prime – and PureSpectrum's Marketplace Platform to uncover first-of-its-kind research, improving our understanding of generational attitudes today. Dr. Aaron Reid went deep into the implicit results and captivated the QUIRKS audience by examining the differences between what people say and what they feel. The insights provided an empathetic lens into the emotional differences of the current generations.
Check out The QUIRKS Event session in Chicago.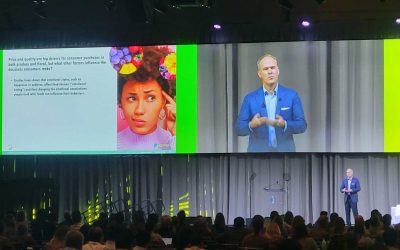 Dr. Aaron Reid of Sentient Decision Science spoke to hundreds of attendees about the subconscious food drivers of consumers at the Global Produce & Floral Show last week in Orlando. Dr. Reid discussed the current challenges  marketing is facing...