The Value of Implicit Research for New Product Consumption Tests: the Proof is in the . . . Chocolate
Of the hundreds of implicit studies we ran in 2014, my favorite wasn't a formally-commissioned study at all.
It was a live experiment we ran with a group of 30 executives at an
innovation summit
as a demonstration of how
Sentient Prime
can capture the
immediate emotional associations following consumption of a new product
. Here was the scene:
Our Mobile Implicit Research Tech-Enhanced Engagement
We arrived at the summit armed with grocery bags full of a relatively new consumer packaged good and a fun implicit experimental design up our sleeves. The executives settled into their chairs with laptops open, tablets on kickstands and smartphones in hand busily responding to emails, tweets and texts as the session began.
We needed to engage the crowd immediately, and we also needed a baseline measure of implicit associations for our experiment, so we had everyone pull up a link to a Sentient Prime study on their smartphones, tablets or laptops.
The study was about chocolate and we explained that we were going to measure the implicit sentiment of everyone in the room to three chocolate brands. Two were very well known: Hershey's and Godiva. The third was little known to the executives in the room: barkTHINS.
Implicit Sentiments from Brand to Brand
Everyone took the test, and given that Sentient Prime automatically tallies and reports non-conscious associations through its online dashboard, we showed the results from the test immediately. Here they are: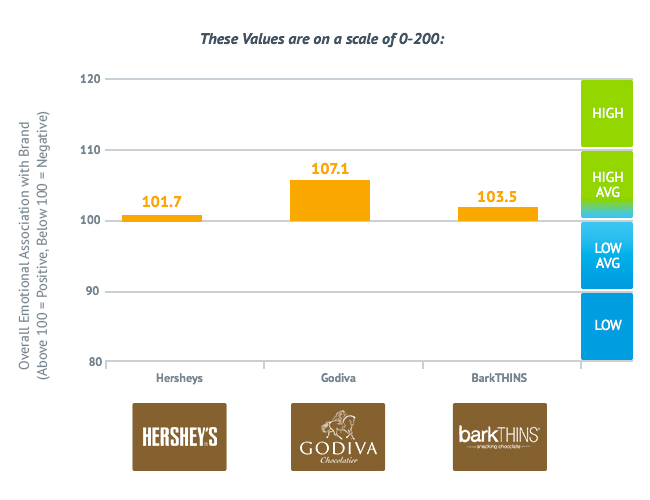 You can see that this room had a slight implicit affinity for Godiva, and a near average (neither positive nor negative) association with Hershey's and barkTHINS.
We explained the essence of what was being measured, and how true implicit research is conducted as compared to the "fast explicit" techniques that are currently parading as implicit techniques while simultaneously being deliberate, reflective and controllable (System 2) measures.
Free Chocolate! (And a Sneaky Product Consumption Test)
While we were providing the evidence for true implicit techniques, we pulled out our grocery bags and handed out packages of barkTHINS to all of the executives in the room. Nothing like a little free chocolate to produce a halo effect over the rest of your presentation!
Everyone opened their packages and sampled the barkTHINS, lightly grazing on the chocolate while we continued with our talk about the predictive accuracy of true implicit methods.
When we came to the end of the presentation, we asked the audience to indulge us with one more implicit test. Little did everyone know, but this test was actually our post consumption trial measure. We had deliberately passed out the barkTHINS samples to test how the consumption of the product would influence their non-conscious associations.
Results of Our Surprise Implicit Test
All of the executives in the room took the same quick two-minute Sentient Prime implicit study that they had taken at the beginning of the talk. Once everyone was done, we pulled up the live results in the Sentient Prime dashboard to see if the mere exposure and consumption of the product had influenced the collective subconscious associations in the room. Here are the results: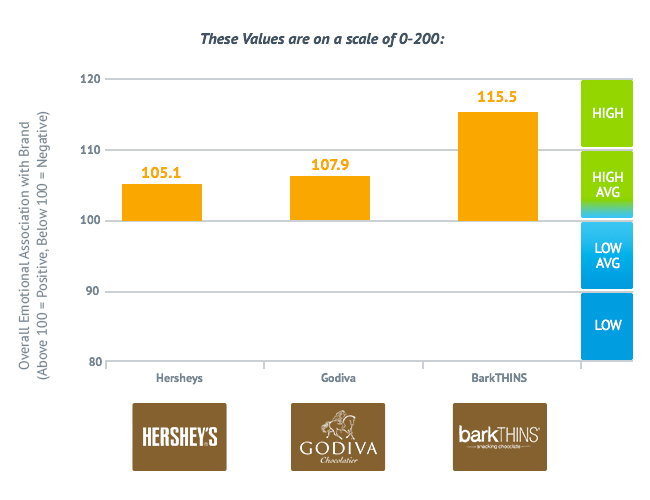 The collective associations in the room showed no significant differences in implicit associations with Godiva or Hershey's but a large significant lift in the implicit positive associations with barkTHINS. When we displayed the live change in the collective subconscious associations on the dashboard, the room was filled with chatter of "wows!" and "no ways!"
This was fun! A live experiment showing the non-conscious impact of sampling a new product ended up being my favorite study of the year!
Analyzing Key Measures of New Product Success
Of course, these kinds of studies are not new at Sentient. We implement Sentient Prime implicit association test for new product consumption and use testing as a standard research product offering. Those tests of new innovations will sometimes be conducted within the intellectual property protected labs of our clients, or alternatively among consumers within central testing facilities, or within consumer's natural home environments for in-home use tests.
These tests incorporate key measures of new product success including:
Approach vs. avoidance implicit emotional response, which is predictive of future in-market sales success
Reason-based and derived business demand measures (enhanced System 2 purchase likelihood metrics)
Discrete emotional associations, to provide a profile of the distinct emotional experience of product consumption/use (e.g., excitement, happiness, satisfaction, calm, disgust, boredom, etc.)
New product consumption tests within food and beverage categories also include:
Sensory attribute associations, to provide a sensory profile of the new product (e.g., taste and olfactory cues).
And if the product is an extension of an existing brand, our standard tests include:
Implicit fit with core brand attributes, to ensure that the product extension will have both immediate business success and support long-term brand health.
But on this day, with these executives, we just used the approach vs. avoidance emotional response in the live product sampling test. There's nothing like a live demonstration of a pre/post experiment using true implicit measures with real time results to convince an audience of the power of understanding the consumer non-conscious.
Here's to more live experiments in 2015!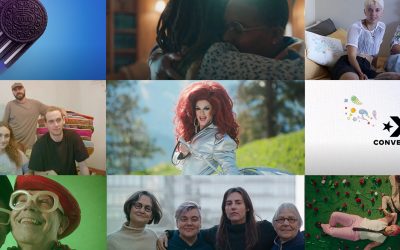 Dr. Aaron Reid demonstrates how Sentient's technology pinpoints the emotionally-charged moments and how consumers are influenced after viewing Pride 2022 ads.Watch the webinar "Somewhere Over the Rainbow: How Marketers Can Support Pride Month and...