Sentient to Uncover Current Psychology of the Consumer at The Global Produce & Floral Show
Sentient Decision Science is honored to be invited to present at this year's Global Produce & Floral Show in Orlando. Our relationship with the International Fresh Produce Association (IFPA) has been very rewarding, and the research we provide is giving us all a better understanding of the drivers of food choices through the measurement of emotion at scale. With the impact on supply chains and the rising cost of goods, it is much harder to understand our decisions using traditional methods like surveys. Our work with the IFPA is helping to provide better clarity on the current mindset of the consumer.
Our session hosted by Dr. Aaron Reid will uncover the emotional view of the consumer. We will review what drives consumer decision-making and how the produce and floral industry can tap into those drivers.
Attendees will uncover:
Price and quality are top drivers for consumer purchases in both produce and floral, but what other factors influence the decisions consumers make?
Why is one brand chosen over another, and is branding of produce as effective as other foods?
Why are consumers willing to spend more on certain items and not others?
The IFPA exists to bring our industry together to create a vibrant future for all. We have a fresh outlook on fresh produce, believing it can help solve some of the world's most pressing problems. They are the largest and most diverse international association serving the entire fresh produce and floral supply chain, and the only company to seamlessly integrate world-facing advocacy and industry-facing support.
For those interested in our published study with the IFPA please read "Beyond Health – Promoting Produce Consumption with an Understanding of the Experiences People Want from Food".
The session will start at 10:30 am on Thursday October 27, 2022
Learn more and register at: The Global Produce & Floral Show Schedule
Dr. Reid is a psychologist, author, and entrepreneur who builds technology that quantifies the human emotional experience. A published expert in how emotion influences choice, Dr. Reid's mathematical models of human decision making are the new standard for forecasting the success of new product launches, ad virality, and marketing communication impact.
Sentient Decision Science is a globally recognized behavioral science organization, known for advancing the theories, tools and technology to quantify and measure human emotion. The leader in quantifying emotion for organizations, Sentient Decision Science advances the knowledge of the drivers of behavior to increase empathy to improve the human condition. 
Made up of distinct divisions: Sentient Decision Science, Sentient Insights and Sentient Labs that are advancing the methods and technology needed to understand the human experience.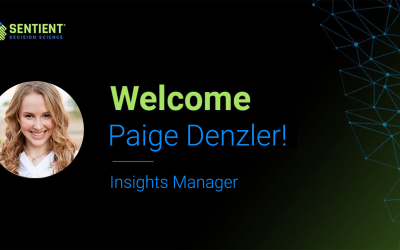 Sentient Decision Science is proud to announce our newest Insights Manager Paige Denzler. Paige's knowledge market research and psychology will be a huge asset to the research team. Before joining Sentient, Paige was a marketing analyst at Amerifirst...