Join us at Brandingmag's Masterclass
Join Branding Mag's upcoming masterclass as Sentient Decision Science's SVP & Managing Director Joe Sauer presents with a panel of experts as they tackle creatives' hesitance to adopt data.
Brandingmag is an award winning independent journal, creating thought provoking discussions for leadership teams around the world. We are proud to be represented in their discussion and honored to present alongside these panelists.
Panelists
Kevin Perlmutter – Chief strategist & Founder @ Limbic Brand Evolution (former senior director of brand strategy @ Interbrand) – The neuromarketer
Della Mathew – SVP, Executive Creative Director @ 22squared – The creative director
Flavia Barbat – Editor-in-Chief @ Brandingmag
Who is this masterclass for?
If you depend on any kind of creative process to get your job done, then this masterclass is for you. Neuromarketing gives you the most honest feedback there is from your audience, allowing you to produce even more efficient deliverables and outcomes.
Date: April 6th at 11 am EST on Zoom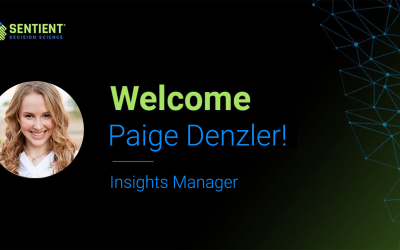 Sentient Decision Science is proud to announce our newest Insights Manager Paige Denzler. Paige's knowledge market research and psychology will be a huge asset to the research team. Before joining Sentient, Paige was a marketing analyst at Amerifirst...