Join us at IIEX North America 2022
Join us at IIEX North America for our first in person presentation since 2020. Hosted by GreenBook, IIEX North America is two full days of bringing insights professionals, data scientists, marketers, academics, startups, consumer brands, and data enthusiasts together to discover the future of the insights industry.
Excited to get back on stage, Dr. Aaron Reid CEO and Founder of Sentient Decision Science will be presenting "The New Normal: The Golden Age of Research Tech is Here". With the next frontier of behavioral science upon us, Dr. Reid will dive into:
How the rise in the use of non-conscious measures is due to the limitations of traditional research methods in uncertain environments.
Why our industry does not get an accurate read on how people feel, and why, with opinion-based research alone.
How brands are leaning into emotion based insights to improve market performance.
How brands are using automated behavioral science to get evidence based insight on diversity, equality and inclusion questions.
Why automated behavioral science will define the future of our industry.
This talk is scheduled for Day 1: April 19, 1:40 PM – 2:00 PM CDT 
Date:
April 19th-20th, 2022
Location: 
Palmer Events Center, 900 Barton Springs Road, Austin, TX
Hosted by: Green
Book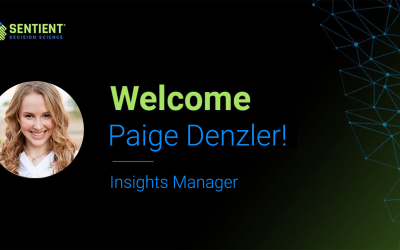 Sentient Decision Science is proud to announce our newest Insights Manager Paige Denzler. Paige's knowledge market research and psychology will be a huge asset to the research team. Before joining Sentient, Paige was a marketing analyst at Amerifirst...