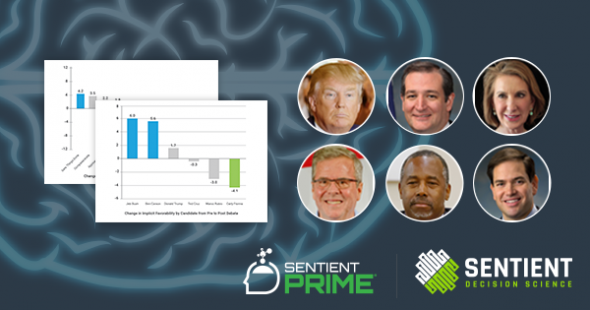 The latest data from the Sentient Consumer Subconscious Research lab reveals interesting insight on the non-conscious impact of debate performance from several GOP presidential hopefuls.
Trump Continues to Triumph
The data shows that Donald Trump continues to benefit from his performance within the debate format. Coming into the debate there was a lot of media buzz around his controversial proposal to temporarily place a ban on all Muslim immigration, and many anticipated more direct and forceful challenges from the other candidates, especially from Ted Cruz who had taken the lead from Trump in the Iowa explicit polls.
While Jeb Bush may have caused the greatest long-term damage to the Trump candidacy by dubbing him the alliteratively alluring "chaos candidate," Cruz didn't gain ground implicitly on Trump during the debate.
Interestingly, the Sentient Prime® implicit favorability measure showed that Jeb Bush made the greatest gains from pre to post debate samples. Carly Fiorina registered the worst change in implicit sentiment following the debate:

Comparing the detailed implicit results from the pre-debate sample (n=761 registered voters) to the post sample debate (n=760 registered voters) revealed another win for Trump on several key attributes.
Trump is a Leader
Implicit attitudes toward Trump rose on Leader, Approachable, and Gets Things Done.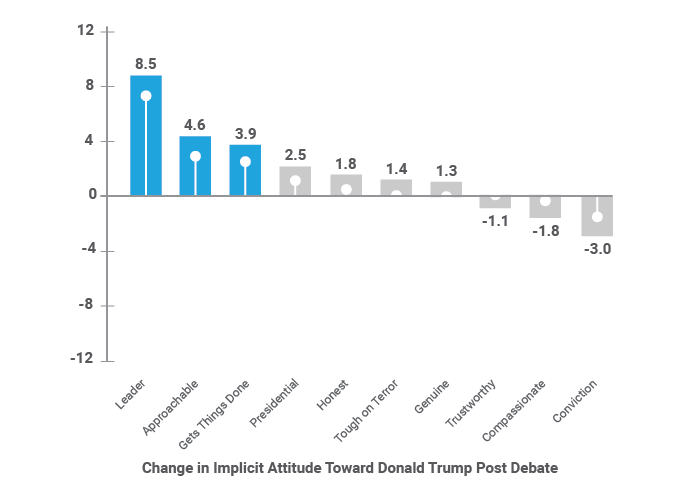 Trust in Ted Cruz Drops
In comparison, implicit attitudes toward Ted Cruz remained largely unchanged from pre to post debate samples with one very important exception. Implicit trust in Ted Cruz dropped significantly following the debate (10 SPI points!).
These results may indicate that Sentient Prime captured a drop in sentiment related to the initial speculation and reporting an inquiry into whether Cruz disclosed classified information during the debate.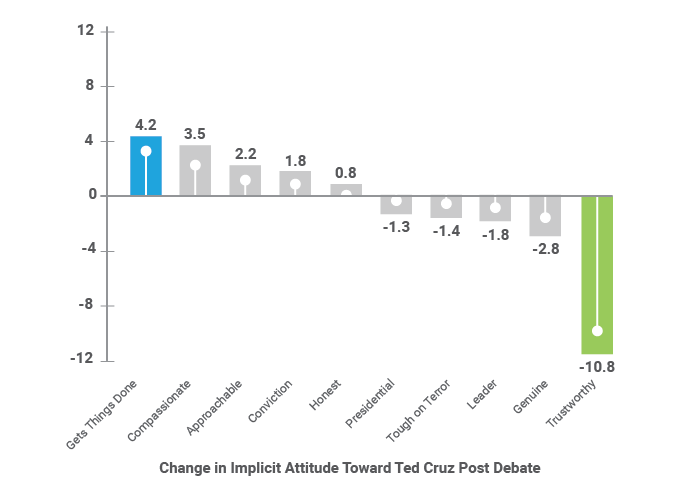 Keep a Watchful Eye—We Will, Too
Another interesting aspect of this study was the inclusion of a Sentient Prime implicit module that measured implicit attitudes toward topics and policies.
As part of that test we assessed the implicit favorability toward two frames on how to handle ISIS: "Contain ISIS" vs. "Destroy ISIS." Jeb Bush is currently spending significant advertising dollars in N.H., emphasizing this distinction between containment and destruction.
Is his approach resonating with Republican primary voters? The Sentient Prime implicit data suggests his framing resonates much more strongly with Republicans than Democrats. We observed a 10 points gap in implicit favorability between Democrats (SPI: 101.8) and Republicans (SPI: 111.7) a on the frame of "Destroy ISIS."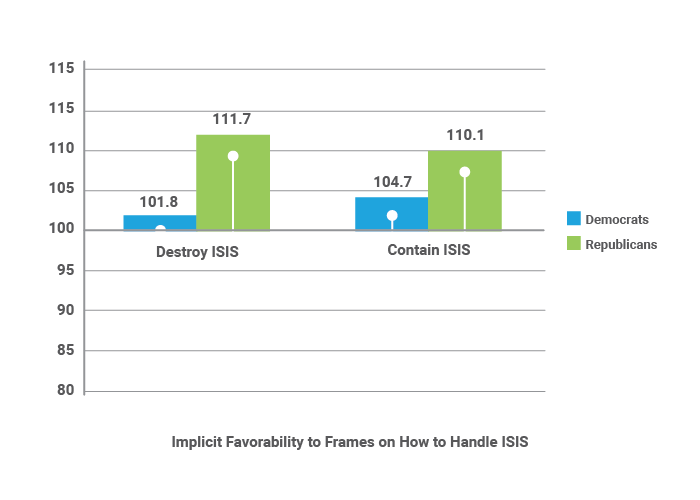 It will be interesting to see if Trump can continue to maintain his leads based on his appeal to voters, whether Bush can leverage this debate performance into future momentum for his campaign, and if Ted Cruz can make up lost ground in voter trust. Check back in for continued implicit insights on the race for the White House in 2016.
For more detailed information on the results from this study, including how Iowa and N.H. voters differ from the national population, please feel free to contact us at info@sentientdecisionscience.com.
---
The results are based on a Sentient Decision Science online study of N=1,521 registered voters on December 15th and 16th 2015.