Behind the Scenes: Making Sentient Expression
Serving popcorn in pop-up movie theaters in Amsterdam and Austin. Glad handing new and old clients at our booths in London and LA. Giving away movie theater candy from San Antonio to Toronto. At the beginning of 2020, that was our plan. We kicked off this in-person product launch tour for our new facial action coding software, Sentient Expression, in Amsterdam and then the real 2020 began.
Everything had to change! 2020 became the year that clients needed to know how their customers were feeling more than ever. We quickly focused our investments on innovation for this new market demand and accelerated our product development roadmaps. This turned out a new automated 24 hour ad-testing product, RAPID Subtext, which became the first automated behavioral science based ad testing platform to combine facial action coding software with our patented approach and avoidance implicit software Sentient Prime.
From a business perspective, this product innovation was a silver lining of 2020. And as we now look forward into 2021 with new wisdom, we want to give you a peek into the innovation and marketing mindsets at Sentient that enabled this kind of transformative innovation. This a look back at the making of Sentient Expression and what we were doing the last time we were all together in 2020.
Remember the sensations and feeling that you get when you walk into a movie theatre? Ahh, we miss that.
The smell of the buttery popcorn, the fizz of the soda's carbonation escaping into the air, the excitement of picking out your favorite kind of candy, the anticipation as you finally sit down and face the giant screen. When we decided to create a campaign for the launch of our proprietary facial action coding platform Sentient Expression—we knew our own testing environment should feel like going to the movies.
We served fresh-popped popcorn, soda and movie theater size boxes of candy. Participants from the community received printed movie tickets as invitations to the pop-up theater. The "movie reel" rolled and took the audience members on an emotional journey. The audience was participating in a scientific experiment, improving the Sentient Expression calibration and data capture experience and producing true emotional expression content for the launch of our new technology. What a blast!
We could see happiness on faces and hear trepidation in voices, as our participants sat in front of the big screen before the big show. We shared laughter and tears with people we had just met, we were able to see their true emotions and feel the human connection they felt with the creative content. These clips of the Sentient team and community participants share some of the good, the bad, the happy, and the sad on what was an emotional and rewarding journey creating Sentient Expression.
When we reflect on 2020, we'll have many memories, many mixed emotions. At Sentient, we'll also remember this silver lining: 2020 increased the need for understanding what people are really feeling and why; and because of 2020, the world now has an automated behavioral science tool that holds the potential to increase empathy for the human condition.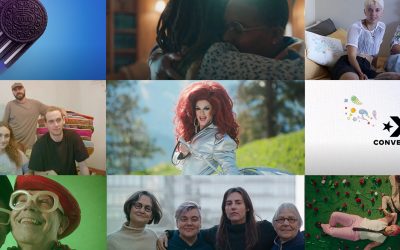 Dr. Aaron Reid demonstrates how Sentient's technology pinpoints the emotionally-charged moments and how consumers are influenced after viewing Pride 2022 ads.Watch the webinar "Somewhere Over the Rainbow: How Marketers Can Support Pride Month and...