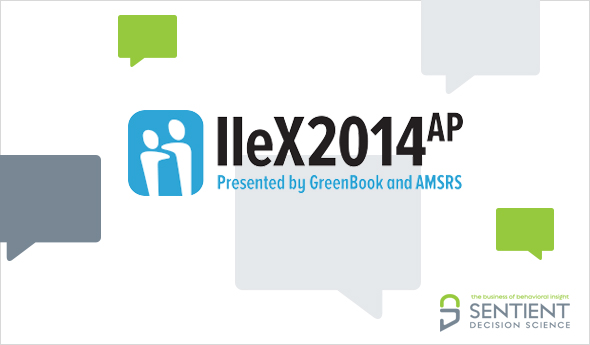 The debut of IIeX Asia Pacific proved to be a fantastic event, featuring novel insights from industry leaders worldwide. For anyone growing or sustaining a globally scalable operation that has reach into the Asia Pacific region, understanding the innovations that impact this region containing billions of consumers is paramount in an ever-connected world.
Throughout the two day event, there were several common themes. From a behavioral research technologist's perspective, here are my primary takeaways.
Big Data. Please Stop Saying It.
Unfortunately, Big Data is stigmatized; a fallacious selling point touted by too many (not just in market research) irresponsibly declaring massive amounts data valuable in itself. We seek not to understand what happened, but why it happened, and why it may or may not happen again.
Any data–whether big, small, medium, red, purple, shiny, elegant or otherwise–can only provide the what, not the why. But that doesn't mean the why is lost or that data is useless in discovering it.
Data is Great, Though. Just Not That Great.
Misuse of Big Data aside, ubiquitous data is an undeniable reality. Sheer availability and shareability of information through technology and prevailing norms–both socially and professionally–has made more data more accessible than ever. However, we cannot allow data by itself to be correlated with valuable insights.
We achieve insights through observation, and while data ubiquity offers an unprecedented level of observational data, context-driven insights are only activated by sharp research and analysis minds who can assemble unstructured behavioral data into that coherent story that encapsulates both the understanding and the why, which together fuel predictive models of future consumer behavior.
Privacy for Convenience?  Yes, Please!
Despite ever-present privacy concerns, several leaders exhibited how people are increasingly willing to surrender their privacy to achieve added convenience.  These details can be captured and leveraged, and we should bank on the trend continuing as those platforms best negotiating the privacy-convenience transaction continue to bring behavioral data points to the surface in both higher quantity and higher quality.
Smartphones and Feature Phones: Don't Hammer with a Screwdriver
There were a couple pointed arguments about whether specific behavioral research methods were better suited for feature phones or smartphones. Smartphones and feature phones are rarely, if ever, competing for the same advanced data collection method. Look at the lowest common denominators–what they each have in common: in-the-moment connectivity, text-based communication, and the most basic of displays.
You would neither rightly sacrifice the sophistication of smartphones in most established markets, nor ignore the prevalence of feature phones in most emerging markets. Shape your techniques and technologies based on the device sophistication and penetration for the target market. Bring the right tool for the job.
Science & Technology vs. Mainstream–The Main Event?
This ends on a personal note. My humble career has always quietly represented my obsession with a better way of doing things, whether it was coding all night to perfect an algorithm when I could have slept and left it good enough, challenging and improving those around me when I could have ignored their potential for greatness, or following my heart in a direction that contradicted leadership to achieve the greater good of the organization.
What I love about all IIeX events is that the focus is on innovation of all sorts. It's about those techniques, methods and protocols that are showing promise but aren't yet adopted by most of the industry. It's about an acceptance of that which doesn't completely fit into the mainstream. It represents the visionaries, the believers and the passion for something better, and it's that shared passion for greatness that makes IIeX attractive to all backgrounds and cultures all over the world–whether psychology, marketing, technology or otherwise.
Yet, I feel that a sentiment commonly expressed in Sydney at IIeX AP was adversarial: a need to jab, counter, bob and weave where Science & Technology went toe-to-toe with Mainstream Consumer Behavior Research in a virtual title bout where one threatened to replace the other. Similar undercard bouts featured tech-focused observation vs. qualitative observation, non-conscious data vs. conscious data and smartphone research technologies vs. feature phone research technologies.
There are no such fights. It's time to focus on pointing discussion towards unification of the best science, technology and market research methods–not the replacement of them–in our common battle to understand and predict behavior. Turning our shared passion for greatness into a reality through the innovative theories, methods and technologies showcased at IIeX requires focusing the discussions on how we work together to achieve the integration of new, and not suggesting or defending against the disintegration of old.