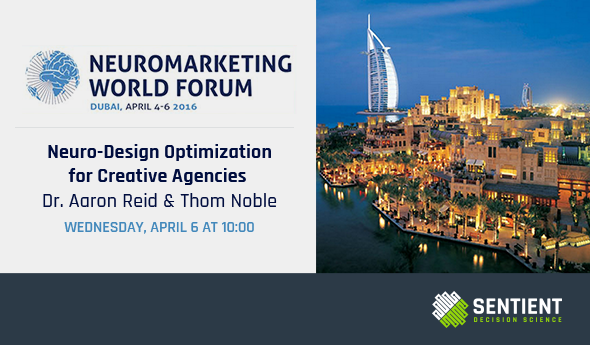 It feels like Sentient Decision Science only just returned from IIeX 2016 in Amsterdam and we're already packing for Dubai. Indeed, we're headed to the United Arab Emirates as April 4-6 marks the prestigious Neuromarketing World Forum at Dubai's Festival City Event Center. Professionals interested in neuromarketing—agencies, CMOs, audience researchers, consumer scientists—will travel from all over the world to gain fresh insights at NMWF 2016.
There are a few different ways to connect with Sentient at the conference. Our chief behavioral scientist, Dr. Aaron Reid, is sharing a presentation April 6 on the topic of neuro-design. We'll also be manning a booth where you can see, learn about, and try our implicit research technology.
If you can't make it to Dubai and want to stay updated from home, follow our Twitter list of NMWF 2016 speakers for news and updates.
Neuro-Design: Developing Agile Test and Learn Capabilities for the Creative Industry
What: Presentation by Sentient founder Dr. Aaron Reid, Ph.D and NeuroStrata founder Thom Noble
When: Day 3 (April 6) at 10:00 a.m.
On Day 3 attendees are asked to "Imagine the Future of Design." To that end, Dr. Reid will be joined by NeuroStrata's Thom Noble to present "Neuro-Design: Developing Agile Test and Learn Capabilities for the Creative Industry."
The session will explore how design and creative agencies can apply new science-based tools for measuring emotional, non-conscious responses to optimize work in progress. Noble will discuss the development of white label solutions, which are frequently used by designers and studios; Dr. Reid will explain how Sentient's approach is ideally suited for such white labels.
Audience members will not only learn how to enhance creative work with neuro tools, but also how to apply neuromarketing results to communication materials.
Demo Sentient Prime and Meet us in Person in Booth J
Sentient is also an event sponsor and will be exhibiting at Booth J where we'll demonstrate Sentient Prime®. Our flagship research technology is the most advanced and scalable implicit association testing platform in the world. But don't just read about it—come see for yourself.