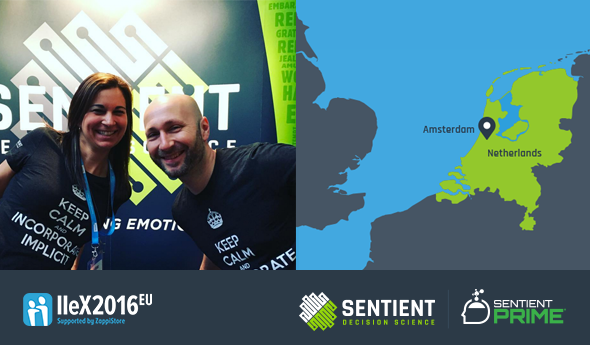 The market research and insights community was put on notice this week in Amsterdam. To thrive, it is time to adapt to three key trends: mobile, emotional insight, and automation.
During two days of the Insight Innovation eXchange Europe in Amsterdam, few presentations lacked at least one of those three key elements. Ray Poynter, mentor to many in the modern market research industry, wrapped IIeX with a succinct 20-minute presentation Friday afternoon, "Five Things Insight Professionals Should Do in 2016," when he warned that change is coming.
"You could probably sack 60% of the people in this industry over the next five years and hire another 20%," Ray Poynter told the assembled group of insights professionals to illustrate how drastic a shift he expects from automation. "That is the scale this is really going to change and it's going to be in all sorts of different places. It's not going to start at the bottom and leave the middle and top."
This is not earth-shattering news. Some in the industry are built on these new trends; ZappiStore is all about automation; Sentient has a mobile implicit research tool that measures emotion. But Poynter urged more traditional market research consulting firms to take stock of their organizations and to make hard efforts this year to tackle several areas.
"You only go forward or backward," Poynter said. "There is no stasis in this world."
His suggestions included:
1. Mobile first
2. More time talking to users of research
3. Focus on emotion
4. Learn a new specialty
5. Be an automation winner, not a loser
Poynter said new techniques that are most exciting are those that enable market researchers to utilize, measure, record, understand, develop, and align with, emotion. He also urged insights professionals to choose a path on automation now, before their services become automated and they are no longer need.
"We should be looking at one of the prospects for automation and make sure we're an automation winner," Poynter said. "How do I make sure that I'm the bit that's really difficult to automate?"
In a session similar to Poynter's at the end of the day Friday, Fleur Evans of Mesh Experience delivered a no-nonsense plan for building a market research business in 2020 that urged market researchers to develop new skills such as becoming experts at passively gathering data from social media and online activity, and mastering automation and biometric studies. Her plan included the following steps:
Get the right people
Get the right automation
Employ people with new market research skills
Keep some skills consistent
Prioritize passive research and the Internet of things (IoT)
Embrace neuroscience and biometrics
Take surveys off the pedestal
Earlier in the day, Annie Pettit of Peanut Labs, brought some clarity to the sometimes overwhelming world of big data in her Sci-Fi-themed presentation, "How to Turn Big Data Into Actionable Data." Pettit laid out keys for using big data effectively, urging shared access to database sandboxes, defining a clear problem or event, and then defining actionable and measurable key performance indicators.
She also urged insights professionals to combine different kinds of data in order to gain deeper insight.
5 key tips on making big data actionable from @LoveStats #iiex #mrx pic.twitter.com/07nRGd4YIK

— Roddy Knowles (@RoddyKnowles) March 4, 2016
Joe Sauer, SVP of research operations at Sentient Decision Science also stressed the need to combine data from system 1 and system 2 processes to create a balanced study and gain greater insight. Sentient has long championed implicit research, but Sauer said during his presentation on the main stage Friday, "Emotion and Reason: Why Consumer Neuroscience Should Stop Disparaging Conscious Measures," that it is necessary to combine explicit and implicit insights in order to create a balanced study.
Day 2! learning from my colleagues @SentientInsight implicit and explicit data combined: increased predictive value, yes! #iiex

— cristina de balanzo (@crisbalanzo) March 4, 2016
Sauer pointed to Sentient being able to deliver R values of .89 or higher in four different studies for the fashion industry by combining explicit and implicit techniques.
"Now it's important to understand with both of these case studies, these are a priori predictions that we're making," Sauer said. "These aren't like media-mix modeling or some other modeling techniques where you get data and then retrofit a model that answers that data, that speaks to that data. These are predictions that we're doing, taking research data before something happens and then measuring the predictive accuracy of those estimates, those forecasts that we make. And so because this is a priori, it's actually quite rare to see correlations in this .8 to .9 range. You typically only get correlations that high when you're doing post-hoc modeling rather than a priori modeling. So there's something that we've captured here in developing a model of decision making that integrates implicit and explicit results, rational and emotional data together."
In one fashion case study, Sentient first looked at the accuracy of the data and found the r-squared value between the buy and sales data was low at only about 28%, according to Sauer. Explicit preferences alone showed a 69% r-squared value. But when Sentient built an integrated model that includes explicit and implicit, r-squared value of actual sales went up to 94%.
"The critical thing here is we repeated it again and again," Sauer said.
Later in the day, during a workshop he led on implicit ad testing, Sauer said the same principles were applied to testing the persuasive impact of a political ad from United States presidential candidate Bernie Sanders. In the workshop, Sauers led about 20 market research professionals in setting up their own implicit research study in a few minutes using Sentient Prime.
Kristin Luck presented on the evolving vision of ESOMAR (the European Society for Opinion and Marketing Research), which includes a dedication to thinking globally, expanding influence by extending reach, education, and "broadening our circle."
"Are we a truly global organization if we're only providing content in English?" Luck asked. "Are we leaving out a whole group of people?"
Luck listed 10 major drivers of change for ESOMAR including:
changing customer data landscape
new functions and professions in the industry
changing methodological paradigm
shifting competitive landscape
changing association and membership paradigm
changing employment landscape
macro-economic pressures
regulatory environment
commoditization of marketing research
technological wildcard
In another nod to the importance of measuring emotion, Heartbear MR app, spearheaded by Lana Novikova, was the winner of the Insight Innovation competition, Gregg Archibald announced. Novikova's team won $25,000, mentoring from one of the judges of the competition, and a booth at IIEX North America in Atlanta, among other perks, for winning the competition.
The app offers automated segmentation of self-reported emotions into 10 primary and 100 secondary emotion groups.
"When the text data is collected, the file gets processed by the  software, and out comes the visualization with different levels and filters: primary emotions, secondary emotions, and analytics by sub-group," the company's website reads. It can be used in brand equity studies, A/B testing, segmentation and U&As, early stage creative development,  and more.
Accepting the award, Novikova compared her joy to the birth of children and listed her "feeling words" as "out-of-breath, elated, validated, and surreal. Other organizations up for the award included SayWhatNow App, Shaping Tomorrow, Beacon Insight Group, Squawk Surveys, and InSites. The competition was sponsored by Lowe's Innovation Lab, Kantar, and Vision Critical.
Insight Innovation and Greenbook again hosted a defining conference for the market research industry and we look forward to Atlanta!