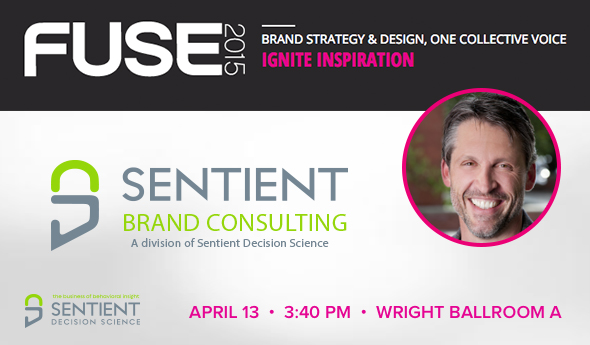 Planning your agenda for FUSE 2015? Don't miss our session on using advanced consumer subconscious research to derive insights that can help successfully extend your brand. We've also highlighted some of the sessions that have piqued our interest below.
With access to over 100 million subconscious perceptions, the Sentient subconscious research lab has discovered patterns of consumer thought that overturn decades of incorrect assumptions about brand extensions, and for the first time, explain the sometimes frustrating mystery of brand "stretch."
In this session, Springfield will share how Sentient Brand Consulting applied subconscious research insights to help translate DORITOS® from a product label into a fully transportable brand, crossing both channels and categories in a few short years.
The Brand Extendability Roadmap: What to Expect
On Monday April 13 at 3:40 p.m. in Wright Ballroom 4, Stephen X. Springfield, SVP of Sentient Brand Consulting (a division of Sentient Decision Science) and former innovation executive & head of category expansion at Frito-Lay, will present The Brand Extendibility Roadmap. You'll learn how these discoveries:
Unshackle brands from the oppression of false "guardrails"
Connect the innovation & portfolio strategy with critical design elements
Reveal the design mechanics of successful extensions
While many extendible brands have achieved marketplace success over decades of trial and error, by understanding and applying these principles, marketers will be able to trade the crystal ball-approach for an extendibility roadmap, confidently entering new categories while accelerating brand growth.
Relax & Recharge (Literally) at the FUSE Insights Lounge
Can't make our session? We're the official sponsor of the FUSE Insights Lounge, where you can kick back, relax, and charge your mobile devices.
While you're waiting, find out how well you really know your marketing preferences with the opportunity to participate in a conference-wide subconscious study that could uncover drivers of success or failure for the Apple Watch. 
Participants will learn something about their unconscious perceptions and have a chance to win an Apple Watch of their own!
Get Social with Sentient at FUSE 2015
Feeling chatty? Join the conversation:
Step 1. Take our implicit research study on Sentient Prime
Step 2. Share your results on Twitter or Instagram with #PrimeFUSE and #FUSE15
Step 3. Follow #PrimeFUSE and FUSE15 for results and reaction
Follow the FUSE Action on Twitter
Keep up with the conversation before, during, and after FUSE 2015 by following our Twitter list of FUSE speakers. Check often for previews of upcoming presentations, links to slide decks, and ongoing conversation.
FUSE 2015 Can't-Miss Sessions
The Kodak Comeback
Monday, 9:30 a.m.
Wright Ballroom
Monday Steven Overman, newly appointed CMO, KODAK and author, "The Conscience Economy: How a Mass Movement for Good is Great for Business."
Future Forces Transforming
Monday, 10:15 a.m.
Wright Ballroom
Bradley Kreit, Futurist, Institute for the Future
Too Much Empathy? Balancing Customer-Centricity with Business Practicality
Monday, 1:20 p.m.
Stream B, Wright Ballroom 4
Gareth Schweitzer; President & Founder, Kelton
The Power of Design: What I Learned from Apple
Monday, 2:30 p.m.
Stream A, Wright Ballroom
Nathan Iverson, EVP, Design Director, Deutsch LA
Brand New: How a Complete Business Transformation Changed Creativity at Kraft
Tuesday, 8:45 a.m.
Wright Ballroom
Peter Borowski, Head of Design, KRAFT
Finding Originality & Achieving Social Impact
Tuesday, 9:15 a.m.
Wright Ballroom
Morgan Spurlock, Oscar-Nominated Documentary Filmmaker and Host of CNN's "Inside Man"
The Next Coming of China: The Emerging Consumer Culture
Tuesday, 10:30 a.m.
Wright Ballroom
Keyu Jin, Lecturer in Economics, London School of Business
The Future of Retail
Wednesday, 11:45 a.m.
Stream A Wright Ballroom 1
Kyle Nel, Executive Director of Lowe's Innovation Labs, Lowe's
FUSE Views: Transformative Brand Experience
Wednesday, 2:30 p.m.
Wright Ballroom 3
Moderated by Stephan Gans, Chief Strategy Officer, Interbrand
Panelists:
Sean Hughes, Chief Design Officer, Philips Healthcare
Andy Donkin, Head of Worldwide Mass & Brand Marketing, Amazon
Alex Klein, Co-founder, Kano Computer Kit
Kimberly Tippett, Product Manager, Pantone