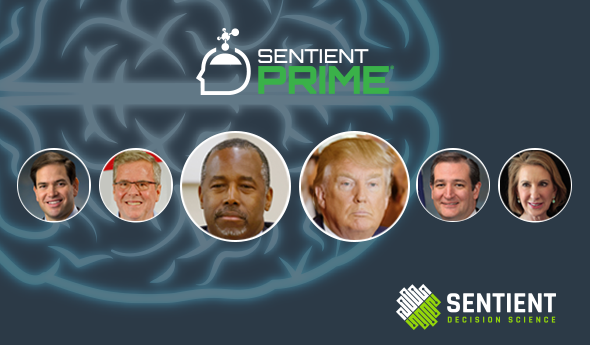 Fiorina Implicitly Impresses, Rubio Angers Conservatives and Carson Makes Gains among Moderates
The Sentient Prime Implicit (SPI) scores are in, and the results are revealing important insight on the impact of the Republican debate that the subjective news feed is missing.
Marco Rubio is enjoying the reviews of his performance last night in defending himself against Jeb Bush's attack on his recent voting record. But the implicit results suggest he didn't impress everyone.
Rubio's Implicit Favorability Among Conservatives Drops Significantly Following Debate
The pre-post comparison of implicit favorability of candidates show that among conservatives the implicit perception of Rubio declined following exposure to the debate: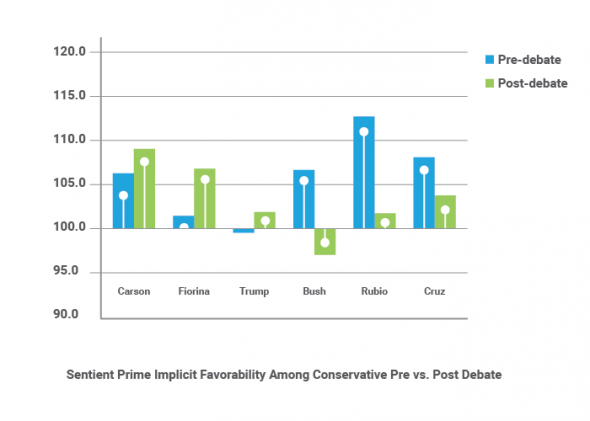 Rubio's pre debate favorability was trending high, yet experienced the greatest point drop (11 points) of any candidate. But Bush did not come out unscathed either. Jeb's SPI favorability dropped into negative territory with an eight point drop following the debate.
Fiorina Saw Significant Lift in Implicit Favorability Among Conservatives
The winners? Similar to what we observed after the second GOP debate, Carly Fiorina saw a significant boost (five point lift) following her performance among conservatives, putting her implicit favorability score (SPI: 105) closer to current leader Ben Carson (SPI: 108).
Conservatives Found Trump More Genuine and Honest After Debate
Notably, Trump's favorability among conservatives rose significantly on two key attributes: genuine and honest.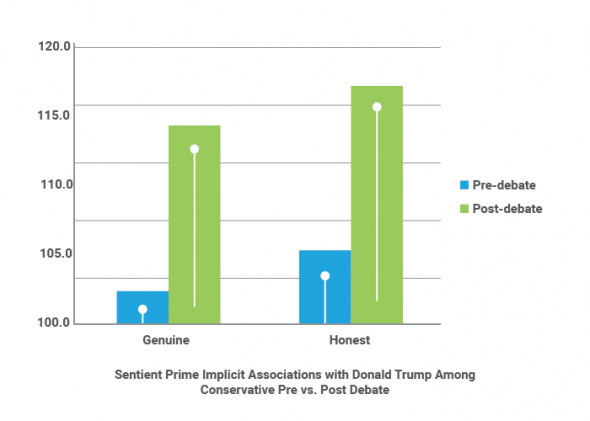 Among moderates, Trump held steady and saw marginal gains in impressions on: leader, presidential and wise.
But perhaps more interesting than Trump resonating with moderates was the impact that Ben Carson's performance had on that same group.
Ben Carson Resonated Strongly With Moderates
Carson's performance was not overwhelmingly impactful on conservatives (he only moved one implicit perception a 10 point lift on trustworthy), but did resonate strongly with self-described moderates. Carson impacted implicit perceptions of: conviction, gets things done, and presidential significantly among moderates.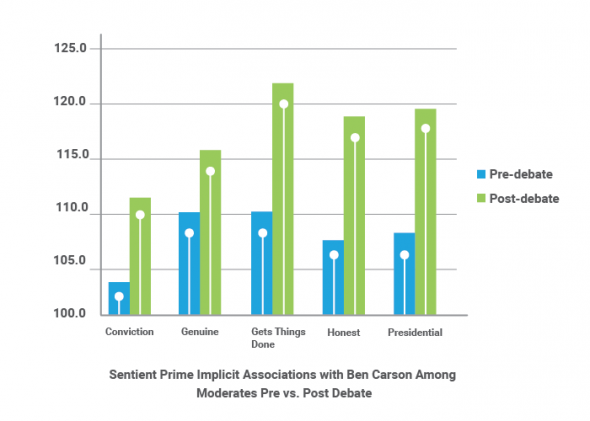 Check back in to see our deep dive analysis on these implicit results in the coming days–including an implicit comparison of these candidates to Ronald Reagan.
And if you'd like to get a feel for what an implicit Presidential study looks like, we'd love to have you give it try here.