Sentient Hires John Kenefic as Senior Director of Research Technologies
Sentient Decision Science is proud to announce the hiring of John Kenefic as our Senior Director of Research Technologies. John is responsible for overseeing all of our research products and making sure that they are running smoothly and effectively.
John previously worked primarily in the product marketing field. He has experience from a whole host of companies including Bose, Staples, and even agencies like Digitas. John earned his undergraduate degree from the University of Massachusetts-Lowell in computer science before obtaining a certification in project management from Boston University.
1. What are you most looking forward to as an employee at Sentient?
Most of my roles have been in product technology so I'm excited to be blending technology with behavioral science to ensure that the correct solution is being implemented for our clients.
2. How do you try to be empathetic?
I have always tried to understand people and get to know them, Whoever they are, whether it's customers, coworkers, friends. Without that understanding there's something missing in terms of human connection. I think we often get too busy in our jobs where we lose sight of that. The world is going at warp-speed so we tend to want what's deliverable instead of trying to build a genuine human connection. To me, being empathetic is a natural way of behaving and Sentient is filling the gaps that we otherwise might not have ourselves in terms of trying to understand one another.
3. What does Sentient do currently that excites you the most?
Blending facial action coding and implicit association gives us the ability to really capture how a customer feels about a product before the product gets shipped. Without that, there's potential for huge misses. People later find out whether it's the packaging or the product itself, there's usually something that's not connecting with the customer. With Sentient's technologies, we can help brands figure out how to tell their story in the right way.
4. What do you see your role at the company being outside the job description?
I bring twenty years of experience and I really enjoy mentoring others. I'm excited to be learning more about the behavioral aspects and how it ties into technology and how the product launches. I'm also someone who loves learning from the team and getting to know people professionally and personally. I don't have all the answers but I've seen a lot of things that work and don't work, which I know will add value to Sentient.
5. When you're not at work, what are some of your hobbies?
I'm a competitive mountain biker. I love skiing. I am a "wannabe" surfer and am excited to test out the New England waves. I also love taking my kids fishing, swimming, to the beach, basically any outdoor activity.
6. What is the most influential piece of career advice you've ever received?
Disrupt. Push hard. Don't give up. Look left, look right and understand the big picture while being personable and empathetic. Do something that's really fascinating that you're passionate about and that the team you're working with is passionate about.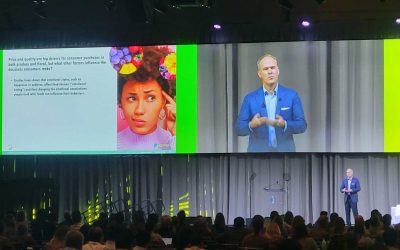 Dr. Aaron Reid of Sentient Decision Science spoke to hundreds of attendees about the subconscious food drivers of consumers at the Global Produce & Floral Show last week in Orlando. Dr. Reid discussed the current challenges  marketing is facing...