Sentient Hires David Tamburello as Data Operations Specialist
Sentient Decision Science is proud to announce the hiring of David Tamburello as a Data Operations specialist. David works with data pulled from Sentient's research products specifically working with our Subtext ad testing.
David previously worked as a Data Analyst for a survey data collection firm outside of Ann Arbor, Michigan. David earned his undergraduate degree from the University of Michigan in Cognitive Science and Language.
1. What are you most looking forward to as an employee at Sentient?
The first few meetings gave me an impression that this place was innovative. I explicitly saw the presentations about where the company is going and the steps we are taking currently to make sure we're doing what we need to do to gear up. The past two weeks the Subtext team doubled in size and I'm excited for the direction this team is heading. I look forward to digging deeper in this field that interests me.
2. How do you try to be empathetic?
In the past, I struggled professionally and I understand what people in the same position are going through. At my previous employers, we all rooted for one another to succeed and I see a similar theme at Sentient. I personally empathize with the people that are struggling in the job field. My work within Subtext allows me to figure out where we as a company can be more empathetic, which is really important to me.
3. What does Sentient do currently that excites you the most?
I'm excited to see that Sentient is growing rapidly. I feel fortunate to be a part of this up and coming industry that is not going anywhere. It is really nice to see that from a social responsibility perspective, how things are really falling into place. Particularly, I'm finding career satisfaction in how we're using our technology for social good. Specifically at Subtext, we're a barometer for how these ads are hitting home for people that are concerned about social issues.
4. What do you see your role at the company being outside the job description?
My role is very programming-based and technical, which I have a lot of experience in. However, I also have a good background in psychological research and the philosophy of mind from my degree, so I'm excited to move more in the storytelling and insight aspects of the company and show my skills there. Finding insights is integral in telling the story of the data I'm helping to collect.
5. When you're not at work, what are some of your hobbies?
I like being out in nature in any way I can. I like photography and I consider myself a big reader. I also enjoy keeping up with news and world events.
6. What is the most influential piece of career advice you've ever received?
I've really come to learn how computer science is one of the most important skills to obtain. It will be super valuable now and in the future. Specifically in Sentient's industry, Computational linguistics, or the combination humanities and computer science, has really helped me in the role I'm currently in.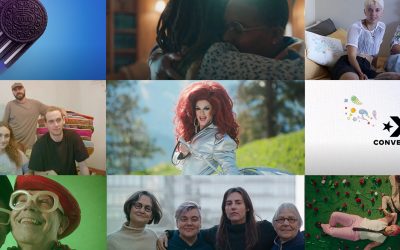 Dr. Aaron Reid demonstrates how Sentient's technology pinpoints the emotionally-charged moments and how consumers are influenced after viewing Pride 2022 ads.Watch the webinar "Somewhere Over the Rainbow: How Marketers Can Support Pride Month and...