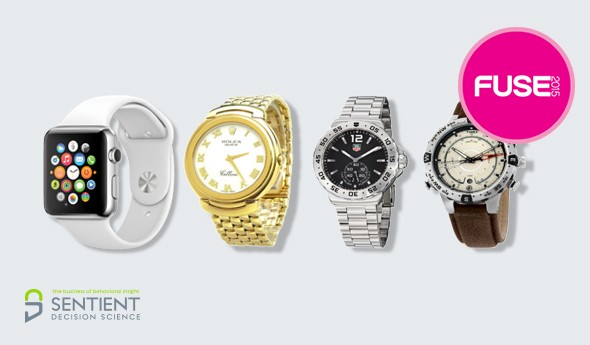 We recently attended IIRUSA's #FUSE15 conference in Chicago. While there, we were once again reminded of Steve Jobs' famous words: "It's not the consumer's job to know what they want."
But at this year's FUSE Insights Lounge, hosted by Sentient Decision Science, we also learned how advances in behavioral science can help us know it for them.
If you had a chance to engage with our cutting-edge implicit research technology at FUSE15, Sentient Prime™, thank you for contributing your unconscious perceptions! We hope they can shed some light on the long-term viability of the Apple Watch, which officially launched a week after the conference.
Apple Watch Implicit Research Study Results
The results from our FUSE 2015 study are clear in terms of Apple's advantages in wrist-wear—winning on implicit perceptions of quality and connectivity, but still falling short on the traditional requirements of status and attractiveness.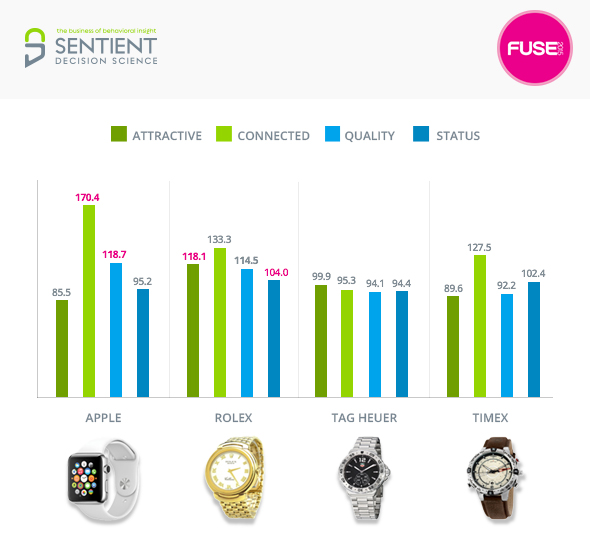 Can Apple once again invent new criteria on which a category is evaluated? You can read more about that in our recent post, or perhaps we can simply watch what happens, once it finally ships.
Finally, congratulations to Kelsey Salmen of PepsiCo, who was selected from a random drawing of participants to receive her own Apple Watch, courtesy of Sentient Brand Consulting.