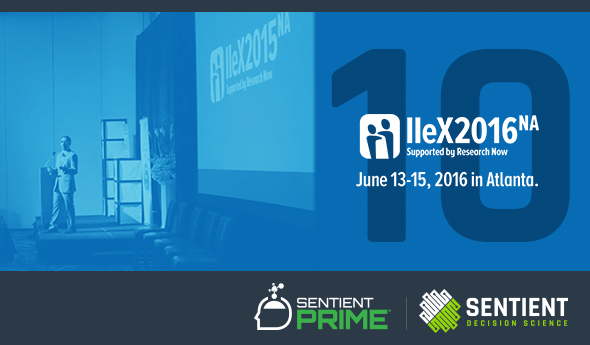 You're scanning the agenda for IIeX 2016 NA and you suddenly find yourself feeling overwhelmed. There are over 200 speakers on the list! Where do you even begin planning who you're going to see?
Right here.
It's true this year's Insight Innovation eXchange in Atlanta, GA is jam-packed with workshops, panels, and presentations from top market research pros. That's why we've compiled a list of 10 can't-miss sessions for the upcoming event. We've also created a great big list of IIeX 2016 NA presenters for you to follow on Twitter.
So relax. We've got you covered.
PRESENTER: Heather Malenshek, Director of Consumer Insights, Harley-Davidson Motor Company  LOCATION: Grand Ballroom DATE: June 13, 2016 TIME: 10:00 – 10:20 a.m. How does Harley-Davidson always manage to remain the King of Cool?  The brand drives customer-led thinking in the organization through the development of deep, emotional insights into current and future riders. Oh, and Harley also likes to break the rules. It's an understatement to say we're excited about this session.
PRESENTER: Ravesh Lala, Cognitive Solutions for IBM Watson Group LOCATION: Grand Ballroom DATE: June 13, 2016 TIME: 2:00 – 2:20 p.m. What is IBM Watson? "A technology platform that uses natural language processing and machine learning to reveal insights from large amounts of unstructured data." Watson can extract key information from documents; reveal insights, patterns, and relationships within data; and answer questions for your clients. Oh, and he never calls out sick to work. Should researchers be worried about their jobs? Ravesh Lala lets us know.
PRESENTER: Elissa Moses, CEO, Ipsos Neuro and Behavioral Science Center LOCATION: Grand Ballroom DATE: June 13, 2016 TIME: 4:20 – 4:40 p.m. At the heart of this presentation from Elissa Moses is a new Reaction Time study. The study imagines countries, America chiefly among them, as brands and examines current perceptions of brand promises and delivery. Where are the gaps? What do those gaps mean for the future?
PRESENTER: JD Deitch, COO of Ask Your Target Marketing (AYTM) LOCATION: Grand Ballroom DATE: June 14, 2016 TIME: 10:00 – 10:20 a.m. It's easy to see why businesses are attracted to self-service research platforms: high-quality research at a lower cost. So what's the downside? Many automated templates offer a one-size-fits-all approach where clients are clamoring for flexibility. AYTM promises a vision of the next wave of automation: "fully encapsulated yet flexible survey research that yields high quality defendable business decisions without an intermediary."
PRESENTERS: Ryan Barry, SVP, North America, ZappiStore; Jeff Powell, EVP of Added Value; Lauryl Schraedly, Marketing Director of Consumer Insights and Strategy, PepsiCo – Gatorade  LOCATION: Grand Ballroom DATE: June 14, 2016 TIME: 3:00 – 3:20 p.m. Gatorade joins Kantar's Added Value and ZappiStore to present a "hot-off-the-press SNAPSHOT" of their brand health. What's the big deal? The 2016 NBA Finals are just heating up, which means energy-enhancing, protein-building brands have to be as competitive as the basketball teams. All market research professionals will enjoy presentation; market research pros who are sports fans will absolutely love it.
PRESENTERS: Ramiro Davila, Senior Consumer Insights Manager of Pepsico; Debbie Balch, CEO of Elevated Insights LOCATION: Grand Ballroom DATE: June 15, 2016 TIME: 9:00 – 9:20 a.m. It's not surprising to hear that PepsiCo employed flexibility when tasked with bringing Mountain Dew into the mixology space. What has really captured our attention about Davila and Balch's session is the promised explanation of how a "tenacious quest for truth" emerged from the process. The duo will share the story via case study.
PRESENTERS: Colin Manaois, Tango Card; Kevin Lonnie, KL Communications; Niels Schillewaert, Insites Consulting; Dave Carruthers, VoxPopMe; Sarah Snudden, Keurig Green Mountain; Peter Shafer, Toluna; Stephen Phillips, ZappiStore; Dr. Aaron Reid, Sentient LOCATION: Grand Ballroom DATE: June 15, 2016 TIME: 10:00 – 10:40 a.m. Dr. Reid will join seven other insights professionals on the main stage for Day 3's "The Future of Insights" panel. Each panelist will speak about choice topics that examine where the market research industry is heading. One note Dr. Reid plans to plans to hit is a look at how the emotional motivations of MRX clients and suppliers influence the adoption of innovative insights. As he wrote in a 2016 GRIT Report commentary, "The onus is on both clients and suppliers to provide evidence of real business impact from the application of innovative methods, otherwise insight innovation just becomes the latest 'shiny new object'." The discussion will be moderated by Sarah Snudden, Senior Manager of Consumer Insights Group at Keurig Green Mountain.
PRESENTER: Dr. Naomi Grewal, Manager of North America Consumer Insights Research, Facebook LOCATION: Grand Ballroom DATE: June 15, 2016 TIME: 11:00 – 11:20 a.m. We all know Facebook is a giant—1.65 billion monthly users and 1 out of every 5 minutes on mobile in the US spent on the platform make that statement indisputable. But when it comes to making smarter insights about people, the brand is not above partnership. In fact, Dr. Grewal will argue for collaborating with partners as a way to better understand human behavior. You won't want to miss this.
PRESENTERS: Nick McCracken, Ford Motor Company; Sarah Snudden, Keruig Green Mountain; Nancy Peper, McCormick & Company, Inc; Charlie Rader, Procter & Gamble; Gregg Archibald, Gen2 Advisors  LOCATION: Grand Ballroom DATE: June 15, 2016 TIME: 11:20 a.m. – noon. What are the future needs and wants of client-side researchers in the face of drastically changing technology? Where should suppliers focus R&D efforts? How far out are corporate researchers from needing to employ these methods? How will the advancement of technology both help and hinder future research methods? Each panelist will answer these questions (and more) in the context of their own careers, organizations, and the industry as a whole.
PRESENTER: Kyle Nel, Executive Director, Lowe's Innovation Labs LOCATION: Grand Ballroom DATE: June 15, 2016 TIME: 12:00 p.m. – 12:20 p.m. We're not at all surprised to see Lowe's among the GRIT Top 50 Most Innovative Client Companies. When Lowe's Innovation Labs thinks of 3D-printing, they imagine it done in zero gravity; Lowe's is working with aeronautical firm Made in Space to give astronauts the ability to make small parts and tools in space. And that's just one project on the docket.
Still Hungry for Insights?
If you still have room in your schedule after penciling in these presentations, we hope to see you at our own:
PRESENTERS: Aaron Reid, Ph.D and Clint Taylor,  VP of Strategic Technology, Sentient Decision Science LOCATION: Grand Ballroom DATE: June 13, 2016 TIME: 11:00 – 11:30 a.m. This hands-on workshop will reveal the latest innovations from Sentient Prime implicit research technology. Suppliers and clients will learn how to create scientifically valid, and business practical, implicit research studies in minutes. Every workshop participant will walk away from the workshop with a link to their own implicit association test and knowledge on how to best use implicit research for specific business applications (brand positioning, package testing, concept testing, ad testing, claims testing and more).
PRESENTER: Aaron Reid, Ph.D, Sentient Decision Science LOCATION: Grand Ballroom DATE: June 14, 2016 TIME: 3:40 – 4:00 p.m.What do #puppymonkeybaby, Donald Trump, and Hillary Clinton all have in common? Dr. Reid's session will answer that question with a series of case studies that reveal the power of making implicit emotional connections. From identifying the essence of what makes an ad "go viral", to capturing the true implicit sentiment around "muslim immigration", to more accurately forecasting voter behavior, the case studies will demonstrate compelling evidence of how emotion and reason combine to produce behavior. The talk will finish with an emphasis on how understanding the politics of emotion and reason within client and supplier organizations are critical to getting these methods adopted more broadly.
Visit Sentient at IIeX 2016 NA in Booth 9
Sentient Prime® was already the most advanced and scalable implicit association testing platform in the world before we made it better. That's right, Prime is new and improved and we're rolling it out at IIeX 2016 NA. Come visit us at booth 9 to experience our proprietary technology for yourself.
And be sure to sign yourself or your team up for the Sentient Prime® Advanced Implicit Designer program. The intense, four-hour session will provide you the knowledge, tools, and control to isolate and quantify the subconscious drivers of consumer choice.
Only those who want to master the world's leading implicit research technology platform should attend.