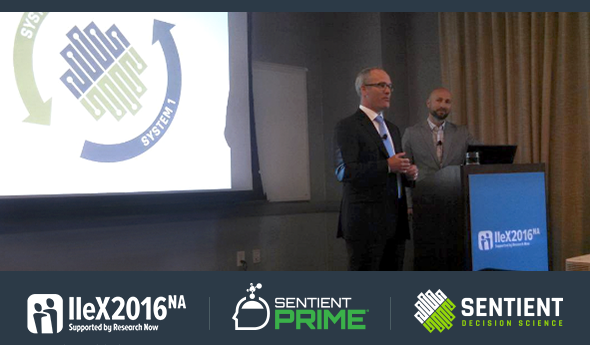 Thank you to everyone who came to our IIeX 2016 NA workshop: "Simplified Access to the Consumer Subconscious." The turnout was fantastic (standing room only!) and we hope you're now as excited as we are about what's new our Sentient Prime implicit research technology.
Sentient Prime was already the most advanced and scalable implicit association testing platform in the world before we improved it. At IIeX, we unveiled four major advancements:
Designing studies from the output you want. Designing from charts allows novice users to get a scientifically valid study by simply creating the charts they want to see, rather than needing to understand how to design an implicit study from scratch.
Google image search. Users do not need to supply their own images as the platform provides immediate access to Google's image database. This feature helps gets studies and demos going faster than ever.
Drag-and-drop Prime image upload. This design enhancement not only makes the platform even more user friendly, but also saves users time.
Princeton WordNet integration. WordNet, Princeton's lexical database for English, automatically generates attributes and appropriate synonyms/antonyms based on the use meaning intended by the researcher. This feature ensures valid research design, and bakes in knowledge of semantic neural relationships to make study design for new users easier and more intuitive.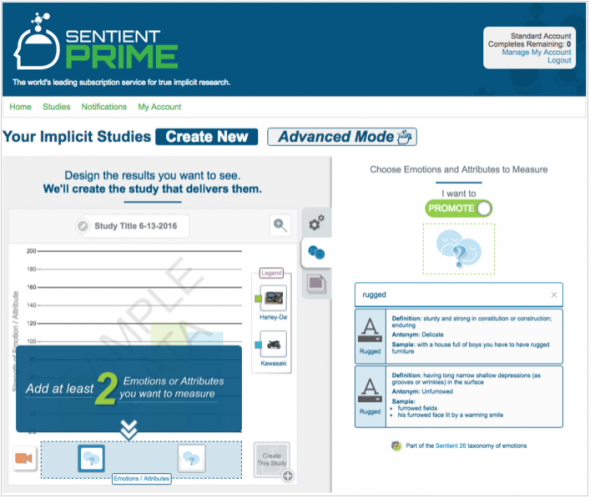 In less than five minutes you can create a visualization of results to bring to stakeholders and clients. Incorporating behavioral science into your marketing applications has truly never been easier or more flexible.
And why is that important?
"We suggest and argue convincingly that the best models are a combination of System 1 and System 2 measures," Dr. Reid noted. "You want your conscious measures to isolate the non-conscious so when you combine them you're more accurate."
Don't worry if you missed the workshop because we'll be demonstrating Sentient Prime at booth 9 every day of the conference. Come by to experience the technology for yourself and learn about how you can incorporate implicit measures into your research.
If you're not at IIeX, or you're simply ready to set up a study right now, navigate to SentientPrime.com and set up an account—all you need is an email address.
So get testing!