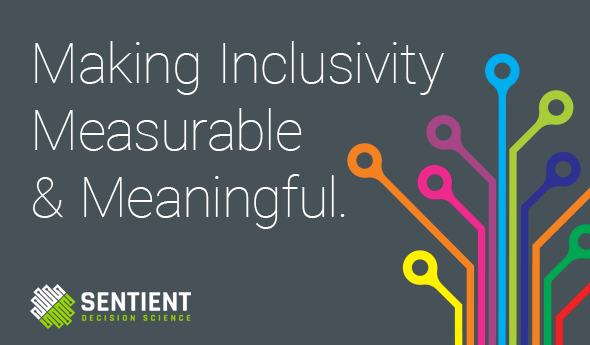 "Inclusivity" has become a popular catchword and yet it lacks the substance and definition it deserves. We developed a rigorous model that defines this construct and makes it meaningful – we now see clear opportunities for application and strategies for intervention. Inclusivity represents a paradigm shift from traditional prejudice and discrimination-focused approaches to addressing societal (and business) issues. Rather than being about reducing negative attitudes and feelings, it is about promoting positive feelings when people are interacting across traditional social boundaries (racial, gender, sexuality, socioeconomic, etc.) and promoting a deep sense (literally – at the implicit level) that we all share a common identity – an "Us".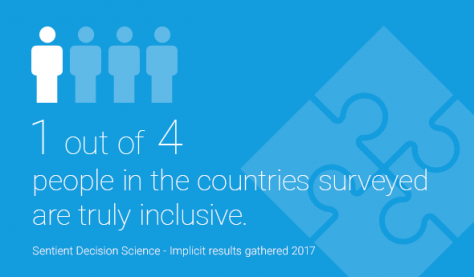 Inclusivity is a major global issue – on average only about 1 out of 4 people in the countries we have surveyed are truly inclusive.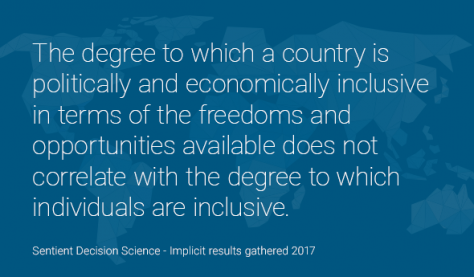 The degree to which a country is politically and economically inclusive in terms of the freedoms and opportunities available to all strata of society does not necessarily correlate with the degree to which individuals are socially inclusive and see others as part of an "Us". For instance, people in the US, UK, Canada and Australia are less inclusive than individuals in Mexico, Brazil, India and South Africa.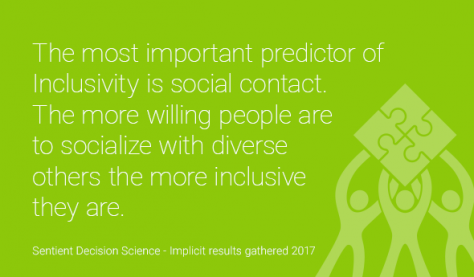 The most important predictor of Inclusivity is social contact – the more willing people are to socialize with diverse others, and the more they actually do so, the more inclusive they are. For instance, we have found that Latin American countries are the most inclusive, which is consistent with the ways in which people socialize (big groups, carnivals that bring all walks of society together, etc.) and have a strong sense of common identity as Mexicans, Brazilians etc.
Inclusivity represents a general orientation toward other people – if you are inclusive toward one group, you are more likely to be inclusive toward people who belong to other groups. Thus, Inclusivity is about a broader mindset than particular attitudes toward black people, gay people, Arab people, etc.; it is also about how people fundamentally perceive and approach others.