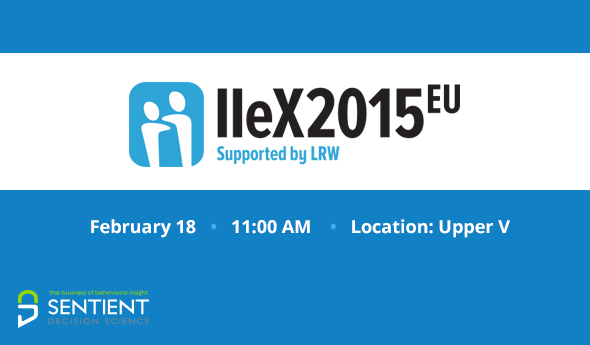 Building your agenda for IIeX 2015 EU? Don't miss Sentient's workshop on designing and analyzing a brand study using advanced implicit association technology.
On February 18 at 11:00 a.m. – noon. PM in Upper V, Sentient's Dr. Aaron Reid will host the Nonconscious Measurement Workshop: Automated Implicit Association Testing. If you've ever wondered how subconscious associations affect the reception and success of your brand or product in the market place, you don't want to miss this talk.
Nonconscious Measurement Workshop: What to Expect
This one hour workshop is for both both insights professionals and research suppliers who want to include implicit in their research toolbox.
The session will begin with a discussion of how nonconscious associations drive consumer behavior. Attendees will then participate in a live implicit association test and get real-time feedback on their own nonconscious associations with brands.
Finally, attendees will work through the step-by-step creation of their own implicit association tests. Be sure to bring images of the brands, products or concepts that you want to test! Attendees will learn:
What qualifies as an implicit association technique, and why that matters.
What unique insight and predictive benefit implicit measurement provides.
How to design an implicit association study for brands, new product concepts, package testing, and ad testing.
How to interpret and analyze implicit association data for deeper behavioral insight.
Get a Personalized Demo of Sentient Prime®
Want a one-on-one? Take some time between your sessions to sign up for a personalized 30-minute demo of Sentient Prime with one of our behavioral scientists at table #3. Book your time now.
Follow the IIeX EU Action on Twitter
Keep up with the conversation before, during, and after IIeX 2015 EU by following our Twitter list of IIeX EU speakers. Check often for previews of upcoming presentations, links to slide decks, and ongoing conversation.
Use Our Code to Get 25% Off!
Finally, as a featured presenter, we're excited to offer our clients and readers exclusive discounts. Use our presenter code IIEXLEADER to get 25% off your ticket price!
We invite you to join Sentient and other innovation leaders for an intensive learning and networking experience.