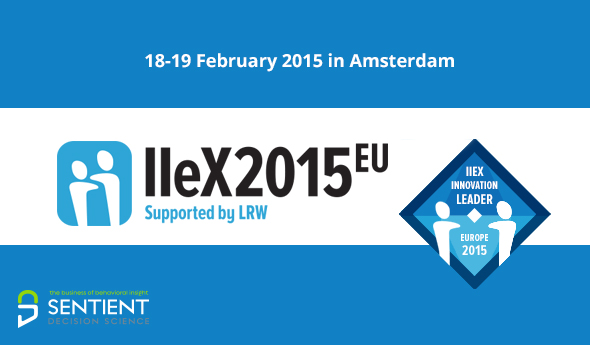 Sentient Decision Science and our own Dr. Aaron Reid will appear at the upcoming Insight Innovation eXchange Europe February 18-19 at Amsterdam's historic Beurs van Berlage. Sentient will be presenting a hands-on workshop on how to design and analyze implicit association studies with Sentient Prime®. Respondents will walk away with a free user account and the ability to design their own consumer non-conscious studies. We invite you to join Sentient and other innovation leaders for an intensive learning and networking experience.
Save 25% on Your IIeX 2015 Europe Registration
Register now to join us in Amsterdam this February, and use the discount code IIEXLEADER when you check out to save 25%. Imagined and organized by GreenBook, IIeX aims to bring together leaders that are driving the transformation and technology of the research industry.
This conference sets the stage for connections that help mash ideas and technology together, with the ultimate goal of bringing about the next revolution in marketing insights.
IIeX 2015 Speakers and Agenda
With over 80 other leaders in innovation speaking at the event, you'll find inspiration from those in your field, and hear directly from clients about the solutions they're searching for. The IIeX Europe agenda covers the entire spectrum of major topics in the industry.
Whatever your specialty is, you should find something to relate to. Plus you'll have the opportunity to learn about fresh new ideas from people outside the realm of traditional market research.
More to See at IIeX 2015 Amsterdam
Join us there. Register today with the discount code IIEXLEADER and save 25%!