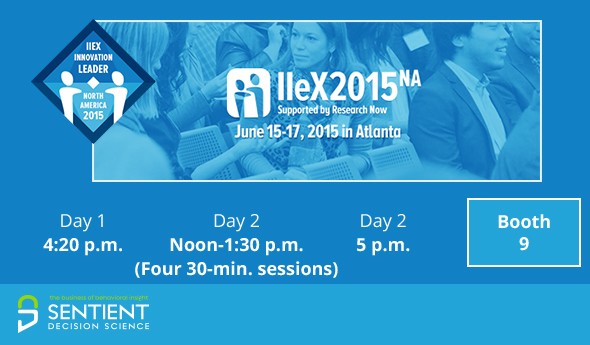 Next week we're heading to Insight Innovation eXchange (IIeX) North America in Atlanta, where we'll be hosting a few sessions on implicit market research and nonconscious measurement techniques. We hope you'll join us for one, or all, of the sessions listed below. Mark your agendas to catch up with Sentient at IIeX 2015.
Getting Explicit About Implicit
What: Speaking Session
When: Day 1 (June 15) at 4:20 p.m.
Where: Track 1/Grand Ballroom
We're kicking off the Nonconscious Impact Measurement segment, chaired by Annie Pettit, in the Grand Ballroom/Track 1.
Our 20 minute talk, Getting Explicit About Implicit, we will present new evidence for the predictive advantage of using true implicit research in advertising testing address in combination with explicit ad impact measures. We will address important misconceptions about implicit market research and show evidence of how true implicit measurement techniques capture different consumer perceptions than fast explicit "response time" measures.
We'll share novel insight on advances in nonconscious measurement from the Sentient Subconscious Research Lab, in the results from a robust test of the implicit impact of 61 Super Bowl ads.
The Future of Consumer Nonconscious Research
What: Executive Roundtable Discussions
When: Day 2 (June 16) at 12, 12:30, 1 and 1:30 p.m.
Where: Grand Ballroom, Table 3
On Day 2, we're excited to host two Executive Roundtable discussions on The Future of Consumer Nonconscious Research at Table 3 in the Grand Ballroom.
Our 12, 12:30, 1, and 1:30 p.m. sessions will be interactive discussion among market leaders in non-conscious measurement on the future of our discipline and what it means for market research more broadly. We'll discuss current perceptions, successes and important challenges we face in making non-conscious measurement mainstream in market research.
The discussion will cover emerging research technologies, such as wearables and other mobile implicit research tools, and their vital place in market research and consumer behavior studies. We'll also actively discuss and debate the best business applications for the non-conscious measurement covering a range from advertising testing, to brand positioning to product and portfolio innovation.
Adding Implicit Methods to Your Research Toolbox
What: Workshop
When: Day 2 (June 16) at 5 p.m.
Where: Track 4/Conference B
We'll close out our Day 2 sessions with a 5 p.m. workshop in Track 4 on Adding Implicit Methods to Your Research Toolbox.
This workshop will teach participants how to design and implement their own Sentient Prime implicit association study for ad testing, package testing, concept testing and brand positioning/tracking research.
Bring an ad video, brand image, package image or concept illustration to the session, and you will walk away with a live link to your own implicit association study. We'll also present best practices on how to incorporate implicit association testing into your business model and research budget in a scalable way.
Try Sentient Prime at Booth 9
Finally, in addition to the speaking and teaching sessions described above, we'll be hosting a booth in the vendor market.
Catch up with the Sentient team at booth #9 to chat about subconscious market research and get a glimpse of Sentient Prime, our flagship implicit research technology in action.