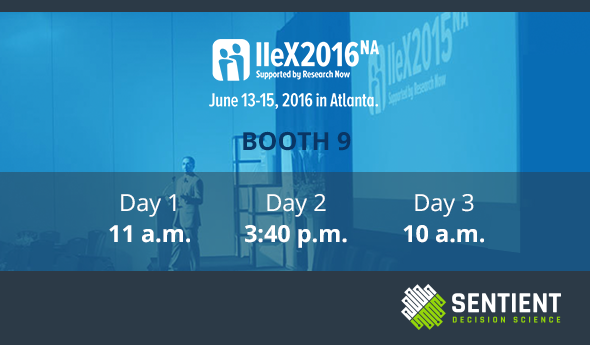 This June 13-15, market research consultants, technologists, advertising and PR pros will gather in Atlanta for the annual Insight Innovation eXchange (IIeX) North America conference. We're especially excited for this year's event because we're unveiling our latest and greatest implicit research technology, Code name: Project EZ-Bake.
Seriously. Here's where to find it, and us, at IIeX NA 2016.
Simplified Access to the Consumer Subconscious
What: Workshop
When: Day 1 (June 13) at 11:00 a.m.
Where: Track 2
We're diving headfirst into Day 1 with a hands-on workshop that will reveal the latest innovations from Sentient Prime implicit research technology. Sentient Founder Dr. Aaron Reid and VP of Strategic Technology Clint Taylor will teach suppliers and clients how to create scientifically valid, and business practical, implicit research studies in minutes. Every participant will walk away from the workshop with a link to their own implicit association test and knowledge on how to best use implicit research for specific business applications (brand positioning, package testing, concept testing, ad testing, claims testing and more).
If you miss the workshop, don't worry about missing out on Sentient Prime entirely—we'll have the new technology at our booth! But more on that later.
The Politics of Emotion and Reason
What: Speaking Session
When: Day 2 (June 14) at 3:40 p.m.
Where: Track 1
What do #puppymonkeybaby, Donald Trump, and Hillary Clinton all have in common? Dr. Reid's session will answer that question with a series of case studies that reveal the power of making implicit emotional connections. From identifying the essence of what makes an ad "go viral", to capturing the true implicit sentiment around "muslim immigration", to more accurately forecasting voter behavior, the case studies will demonstrate compelling evidence of how emotion and reason combine to produce behavior. The talk will finish with an emphasis on how understanding the politics of emotion and reason within client and supplier organizations are critical to getting these methods adopted more broadly.
The Future of Insights
What: GreenBook Industry Trends Panel
When: Day 3 (June 15) at 10:00 a.m.
Where: Track 1/Grand Ballroom
Dr. Reid will join seven other insights professionals on the main stage for Day 3's "The Future of Insights" panel. Each panelist will speak about choice topics that examine where the market research industry is heading. Dr. Reid plans to take a critical look at how the emotional motivations of MRX clients and suppliers influence the adoption of innovative insights. As he wrote in a 2016 GRIT Report commentary, "The onus is on both clients and suppliers to provide evidence of real business impact from the application of innovative methods, otherwise insight innovation just becomes the latest 'shiny new object'."
The discussion will be moderated by Sarah Snudden, Senior Manager of Consumer Insights Group at Keurig Green Mountain.
Experience the NEW Sentient Prime at Booth 9
What is Project EZ-Bake? What do oven mitts have to do with implicit research technology? What's new about Sentient Prime? For answers, visit the Sentient team at booth #9. (Of course we can also chat about nonconscious measurement techniques while we're at it.)
You can also connect with Sentient on Twitter, where we've compiled an IIeX NA 2016 list of speakers. We hope to Tweet you or meet you in Atlanta!