Package Pulse™ is used to evaluate creative concepts for new packaging. Our package testing studies use Sentient Prime® implicit research technology to measure emotional response and implicit brand associations evoked by packaging design.
Package Pulse can be used to pick a winner among a final set of designs, whittle down a broader set of creative designs to focus direction, or simply evaluate current package effectiveness against the competition.
Advanced Package Element Analysis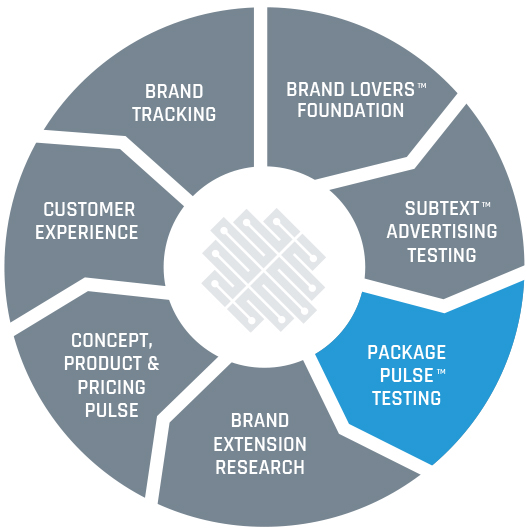 Package Pulse tests include reaction to the whole package as well as reactions to individual packaging elements. Package element evaluations reveal which visual and text components are the most engaging, and the nature of the associations they are conveying to your target audience.
A package element analysis determines which elements are uniquely "owned" by your brand versus the competition, revealing which elements serve as distinctive brand assets.
In addition, we use eye-tracking technology to diagnose primary attention points and communication hierarchy. This reveals the cognitive processing path of shoppers and empowers brands to refine packaging before in-store launch.
Sentient "findability" exercises measure the relative ease of finding packages amidst a competitive array of packs found on the shelf. Response times provide an indirect measure of relative findability.
Standard Package Pulse tests provide:
Emotional Lift
Non-conscious Associations
Distinctive Packaging Asset Evaluation
Shopper Attention aAnalysis
Package "Findability"
Advanced Package Pulse™ tests provide all of the above plus:
Advanced Package Pulse delivers lift-in-sales results through the application of Sentient's Proportion of Emotion model of consumer decision-making. The model has been validated against in-market sales data, demonstrating high predictive accuracy (r=.96) and 30-40% improvement over conscious choice models alone.