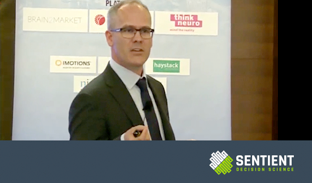 Dr. Aaron Reid, the Chief Behavioral Scientist at Sentient Decision Science, highlights the impact on creative agencies when they apply implicit, emotional measurement techniques to creative asset testing. In this video, Saddington Baynes discusses how they use implicit techniques to test variance during campaign development in a co-presentation with Thom Noble of NeuroStrata.
Neuromarketing World Forum
April, 2016
For more information on how to incorporate emotional measurement techniques into your creative concept testing, click here.