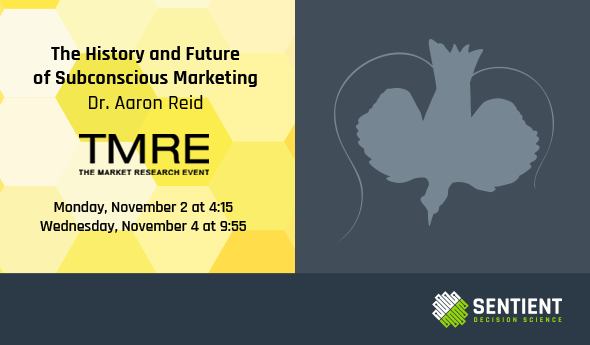 On November 2-4, Sentient Decision Science will be in sunny Orlando for TMRE 2015, the world's largest marketing research and insights conference, to share our expertise in connecting with and measuring the consumer subconscious.
TMRE brings together more than 1,300 thought leaders in fields ranging from market research and competitive intelligence to consumer insights and analytics, all working together to help businesses turn insights into action and build the best marketing strategies possible.
This year, you'll have several chances to connect with Sentient Decision Science at the event. Check out the presentation details below:
The History and Future of Connecting with the Consumer Non-Conscious
What: Presentation by Sentient Founder Aaron Reid
When: Day 1 (November 2) at 4:15 p.m.
Where: Panzacola H2
Join Sentient Founder Aaron Reid for a presentation on the history of connecting with consumer subconscious and a discussion of what the future holds for implicit research technologies. The non-conscious impact of marketing is universal with a long history, predating the printing press, and a future that will eclipse our most effective advertising today.
Dr. Reid, will take us on a journey showing how non-conscious marketing is not a "nice-to-have" but rather is essential from the selling of commodities and premium goods to the very propagation of life.
Illustrated with sales evidence from consumer case studies, this talk demonstrates how emotion and reason combine uniquely within humans to produce consumer behavior. The audience will learn how to combine emotion and reason in their predictive consumer models, and will walk away armed with access to technologies for quantifying the impact of emotion on choice.
How to Integrate True Implicit Methods into Your Research Toolbox
What: Demo Zone Presentation
When: Day 3 (November 4) at 9:55 a.m.
Where: TMRE Demo Zone
Stephen Springfield, SVP of brand consulting, and Clint Taylor, VP of strategic technology, will be running this workshop focused on integrating implicit research methods into your current research plan.
Demo Sentient Prime and Meet us in Person #603
Sentient is also an event sponsor and will be exhibiting at Booth #603 where we'll share demonstrations of Sentient Prime. At the booth, you can also see all of the worldwide instances of Sentient measuring consumer subconsciousness with the Sentient Prime map.