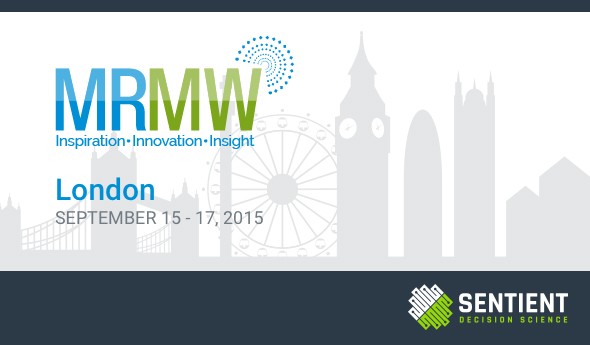 Planning your agenda for MRMW Europe 2015? Don't miss our session on mobile, global, scientific measurement of the consumer non-conscious.
In addition to ours, here are the nine sessions we're most looking forward to. You can follow along with many of the event's speakers by using our MRMW Twitter list.
Day One: September 15
1. What Do People Want From Mobile? (Brainstorming Session)
Time: 11 a.m.
Speaker/Moderator: Ray Poynter, Director, Visioncritical
Description: 
We know that mobile is growing, growing in terms of traditional research (such as online surveys and CATI) and in terms of new research (such as mobile ethnography, passive data and in-the-moment research). But, what are research participants happy to share? This interactive and gamified brainstorming session will explore:
What is currently possible with mobile?
What are the key things that clients and researchers are keen to do with mobile?
What are research participants happy to be involved in?
What are the red lines with mobile, the things we shouldn't be doing?
Day Two: September 16
2. UK Elections' Wakeup Call – Critical Challenges and the Way Forward
Time: 11:05 a.m.
Moderator: Leighton Vaughan Williams, Professor of Economics & Finance & Director of the Betting Research Unit & the Political Forecasting Unit, Nottingham Business School
Panelists:
John Curtice, President, British Polling Council
Gideon Skinner, Head of Political Research, Ipsos MORI
Description: 
Identifying the critical issues on getting accurate samples in the era of mobile:
 Are betting markets more accurate than pollsters?
The road of trust – necessary steps needed to rebuild confidence?
3. The Opportunities and Challenges of In-the-Moment Feedback Using Location and Beacon Triggering
Time: 11:40 a.m.
Speakers:
Miguel Ramos, Mobile Practice Lead, Confirmit
Crispin Beale, Chief Executive, Chime Insight & Engagement Group, Chime Communications
Description: 
This presentation will serve to analyze the way beacon and location triggering technologies can be applied by market research organizations to deliver innovative services:
Using a dedicated mobile app to encourage wider engagement with panelists at a time and place convenient to them
Designing mobile engagements based on panelist's contextual location
Understand how mobile panel apps using beacon and GPS technology can become a key enabler for the delivery of highly relevant contextual surveys
4. Give the People What They Want – Concept Testing for Today's Digital Consumer
Time: 12:00 p.m.
Speaker: Chris Sinclair, Head of Ipsos Marketing, EMEA Ipsos
Description: 
Understanding how concept testing has to evolve to maintain its place in marketing research's future state
How new concept stimulus technology can result in deeper consumer engagement and more thoughtful, differentiated responses
Adapting concept testing for the mobile world and allowing for more engaging concepts, that reach more consumers and using the technology to reflect more realistic consumer behaviors.
5. Advanced Research with Low Tech Devices to Low Income Classes in Emerging Markets
Time: 1:20 p.m.
Speakers: 
Robert Dossin, Client Director, SKIM
Alistair Hill, Co-Founder, On Device Research
Description: 
Effectively running choice-based conjoint studies on low tech phones
Explaining the limitations during survey setup and the way we managed to make this work
Comparing these results based on feature phone research targeting lower classes in developing countries to smart phones and traditional interviews
6. The Game of Context – How Mobile Context-Based Measurements Impacts the Future of Survey Research
Time: 2 p.m.
Speakers: 
Frans Van Bommel, Market Research Manager, Jacobs DouweEgberts (JDE)
Katia Pallini, Research Innovation Manager, InSites Consulting
Description: 
Context is a key influencer of consumer behavior, yet we keep on conducting (survey) research without taking into account these context elements.
Demonstrating how a context based survey design gives a more realistic measure of the potential of product concepts.
Bringing insights into how in-context measurement leads to better and more predictable data based on an interesting project done in cooperation with DE Master Blenders 1753
Day Three: September 17
7. Mobile, Global, Scientific Measurement of the Consumer Non-Conscious
Time: 9:40 a.m.
Speaker: Aaron Reid, Ph.D., Chief Behavioral Scientist, Sentient Decision Science, Inc. USA
Description: 
Dr. Reid will reveal how recent scientific and technological advances have enabled true non-conscious research to move from "nice-to-have" laboratory techniques to globally scaled, mobile "must-have" research applications.
Case studies will show how adding true implicit techniques to best-in-practice conscious measures produces more accurate market forecast models, and provide deeper differentiated insight to drive innovation.
As the industry moves a step forward in the adoption of mobile data collection, we must ensure that we do not simultaneously move two steps back in our reliance on stated answers to explicit questions.
8. Video, Video Everywhere – Unlocking the Value of Video-Based Research
Time: 10:40 a.m.
Speaker: Andrew Mitchell, Global Commercial Director, LivingLens
Description: 
Video is exploding as a source of data. Over 300 hours of video are uploaded to YouTube every single minute. Consumers are becoming more and more comfortable with capturing and sharing video of themselves. However, video is an impenetrable media which is difficult to extract value from.
Learn how to unlock the value of video, and simply mine video like any other data sources, putting the consumer at heart of decision making once and for all.
9. The Future of Market Research – Where Are We Going and How
Time: 11:50 a.m.
Moderated by: Laween Atroshi, Chief Research Officer, NHS
Panelists:
Torsten Müller-Klockmann,Global Head, Digital Market Intelligence, GfK
Josh Samuel, Head of Global Innovations, Millward Brown
Stuart Ryder, Global Head of Mobile, Ipsos Interactive Services
Description: 
Where are key investments going right now in terms of technology and business areas
The IoT impact on MR- data processing, analysis and privacy concerns,
Big data and the road to automation
Leveraging opportunities in Europe – the potential for partnerships within the industry
Reinvention: Envisioning the future and they way to adapt to the market and clients
Identifying the next big thing expecting to shape the industry
10. X Factor: Market Research Innovations
Time: 2:10 p.m.
Judges:
Phil Rance, Special Adviser, Credo Consulting
Paul Roberts, Investor, Collider
Linus Dahg, Early Stage VC, Wellington Partners
Dan Foreman, Investor, Hatted
Introducing:
MarketMiner – Text Analytics for Marketing Research in China
Janna Lipenkova, CEO, Anacode
Programmatic Proximity Marketing – Utilizing Real-Time Proximity Insights to Personalise Engagement with Consumers
Daniel Angel, Director, Strategy & Business Development, Tamoco
Mapping the Context – The Power of Visualization
Sander Waterval, CEO, Contextmapp
---
Information and session descriptions from MRMW.net