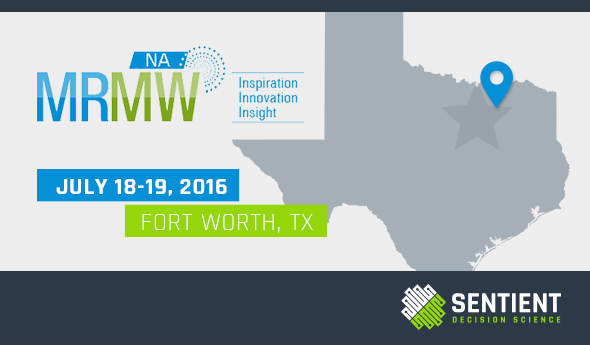 Whether you're a market researcher, a consumer insights manager, or a data-hungry techie there's one place you need to be July 18 and 19, and it's MRMW 2016.
The North American Mobile Research in the Market World event is the largest global conference focusing on mobile market research, bringing together over 5,000 participants from around the world. This year, we'll convene in Fort Worth Texas to hear from the market research industry's thought leaders.
The speaker lineup for MRMW features representatives from giants like the Walt Disney Company, PepsiCo, and Microsoft, but everyone on the list is worth giving an ear to.
Here are just a few we think you should check out:
PRESENTER: Mikel Cirkus, Firmenich
WHERE: Main room
DATE: July 18, 2016
TIME: 9:00 a.m. – 9:30 a.m.
The world is speeding up faster than ever and you need to be as far as five years ahead just to keep up with this new pace. Decision makers and innovators need to not only anticipate the future of the industries they may work in, but also of those affecting society and technology as well. Today's business leaders must get closer and deeper to reality in order to connect to consumers. In that light, Mikel Cirkus will touch on:
Observing societal changes to get a true understanding of the processes of identifying, deciphering and utilizing trends
Blending art and science to spot the trends and translate them into actionable strategic opportunities
From customization to globalization, spirituality to virtuality, convenience to experience; how trends drive consumers and consumers drive sales
The impact of mobile and new technologies
PRESENTERS: Mark Michelson, Executive Director, MMRA; Phillip von Holtzendorff-Fehling, Mama Gaia & Arcade City; Heath Greenfield, Millward Brown; Merrill Dubrow, M/A/R/C Research; Greg Ellis, Research Now
WHERE: Main room
DATE: July 18, 2016
TIME: 9:30 a.m. – 10:00 a.m.
In this discussion moderated by Mark Michelson of MMRA, panelists will look at client demand, specifically, in which areas client demands are driving industry growth. Mark will also ask the group to opine on strategic acquisitions and portfolio management, as well as what new sectors and developments in market research are promising the greatest return on investment.
PRESENTER: Joe Sauer, SVP of Research Operations, Sentient Decision Science
WHERE: Main room
DATE: July 18, 2016
TIME: 11:00 a.m. – 11:20 a.m.
Recent advances in behavioral science have made the quantification of emotion a reality. Business focused mobile technology advances have now made the measurement of emotion in-the-moment practical for marketers.
Multiple case studies, from shopper emotions in the aisle to voter emotions in the ballot booth, reveal how incorporating implicit emotional measurement produces more accurate forecasts of business success and deeper explanations of the whys behind consumer behavior.
Participants in the session will learn:
How implicit emotions can be measured on mobile devices
Why implicit measurement is the next great advance in scalable market research
How insights from in-the-moment emotional measures can impact strategic recommendations
PRESENTERS: Joanne McDonough, Senior Director of Strategy and Insights, Heineken; Penny Tarrant, Co-Founder and Senior Insights Director, Blue Lime
WHERE: Main room
DATE: July 18, 2016
TIME: 1:30 p.m. – 2:00 p.m.
When Heineken made an effort to "get inside nightlife," they looked to market research to make a strategic plan. The result? They discovered that combing a series of qualitative methods, such as real-time insights, forced product users, undercover friends, and co-creation workshops, could allow them to find out (perhaps too much) about your target audience. The next step was using their findings to drive brand image and occasions. Sit in on the session to hear how it all turned out.
PRESENTERS: Andrew Fang, Vice President of Solutions, MFour; Andreas Hoelting, Senior Project Manager, MFourDIY
WHERE: Breakout room
DATE: July 19, 2016
TIME: 9:00 a.m. – 10:30 a.m.
In-location surveys are now made easy, thanks to the good people at MFour. As creators of Surveys On The Go®, they know how market researchers can optimize their mobile surveys to the tune of 1,000 completes. They're also masters of real-time data and instant reports. If you want your research on mobile (and who can afford not to?), you'll want to be at this session.
PRESENTERS: Alan Heaton, Market Research Excellence Practice Lead, Microsoft; Prasanth Reddy, Vice President, Borderless Access; Jason Goya Tiffer, Vice President of Sales, Americas, Borderless Access
WHERE: Main room
DATE: July 19, 2016
TIME: 11:20 a.m. – 11:40 a.m.
This trio representing Microsoft and Borderless Access don't just understand that mobile is crucial to current and modern market research; they understand why. Their work together uncovered some of the finer differences in web browsing habits of consumers on different devices, which they'll share in this Day 2 session.
It also helped them understand the associated biases to different platforms and how to adapt fieldwork and sampling accordingly. If you want to learn how to incorporate web browsing habits into your research study designs (and it's probably safe to say you do if you're at MRMW 2016), don't miss this presentation.
PRESENTERS: Roddy Knowles, Director of Mobile Research, Research Now; Dr. Harvir S. Bansal, Chief Research Officer, B3 Intelligence
WHERE: Main room
DATE: July 19, 2016
TIME: 12:10 p.m. – 12:30 p.m.
The capabilities of mobile research will be explored in this talk by Roddy Knowles and Harvir Bansal. The pair will discuss:
Modularizing surveys in an automated fashion, with the bulk of participants receiving only a specific module, a subset of the overall survey
Ensuring three fundamental elements of research are held to high standards: participant experience, efficiency in fielding, and data quality
Highlighting key metrics such as efficiency in field, completion/abandon rates, data quality measures, participant experience, and variations in results
You can view the full list of speakers is on the event site. You can also follow along with some of them on social media via our MRMW 2016 Twitter list. Send us a Tweet if you'd like us to add you!