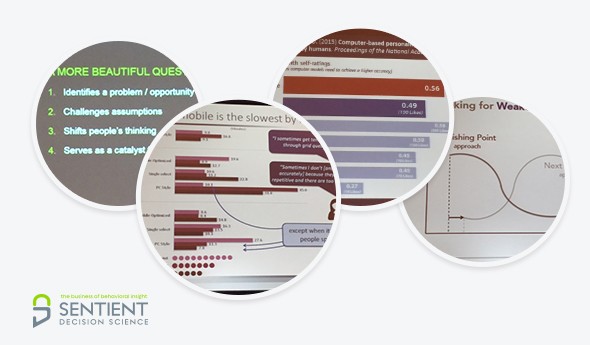 Day one of the Insights Innovation Exchange (IIeX NA 2015) in Atlanta was full of energy! The total number of registered attendees topped 750, in what is now the conference's fourth year.
IIeX NA 2105: The Next Big Thing & The Vanishing Point
J. Walker Smith of The Future's Company kicked off the day by discussing how the "Next Big Thing" can be found by looking at the "vanishing point", which is identifying what is disappearing and how you can innovate within that space to create something new to fill the gap. One compelling example included illustrations of how some companies are utilizing social media to create spaces where singles can share meals with strangers in a family-like setting since the "family dinner" is disappearing and people are getting married later in life. "We want to be single longer, but we don't want to be solo."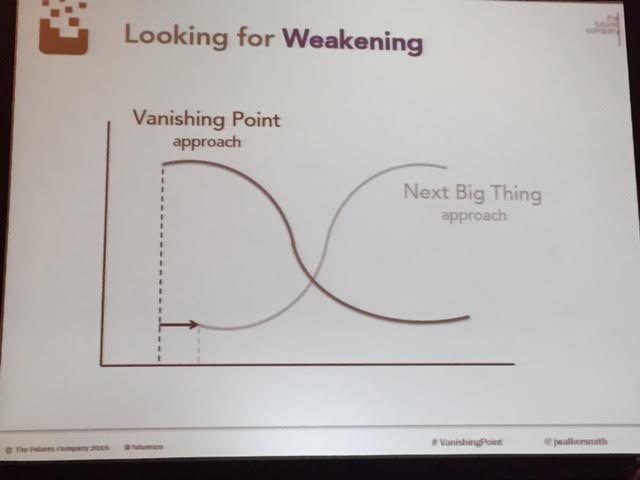 The Power of our Digital Footprint
Vesselin Popov from the University of Cambridge Psychometrics Centre spoke to the general session crowd about harnessing the power of our "digital footprints", and how our digital behavior can be more predictive of our personality than even our friends and family. "With only 100 likes, the computer is more accurate at predicting your behavior than your own mom." These insights can be used to target hard-to-reach groups who are otherwise private about their behaviors, providing an "end-around" on the can't say/won't say issue in market research.
Old Survey Styles Are Out. What's In?
Research Now's Melanie Courtright gave a very direct and well-liked presentation about how participants are tired of old survey styles, like grids that aren't optimized for the mobile experience.
Melanie Courtright, Brava! Because most surveys suck, participants are breaking up with us. #IIEXNA #iiex2015

— Alice Morgan (@AliceJMorgan) June 15, 2015
#iiex Melanie Courtright -Have to agree, I hate grids too and to impose grids on a smarthphone is cruel & unusual punishment to respondents

— Kevin Lonnie/KLC (@klonnie) June 15, 2015
Participants complain that the surveys take too long and that the grid style gets repetitive, going so far as to rush through and answer questions inaccurately because they're disinterested. "We need to mobile-optimize surveys and make them device agnostic" she told us, "even if you don't care about participants… care about your data."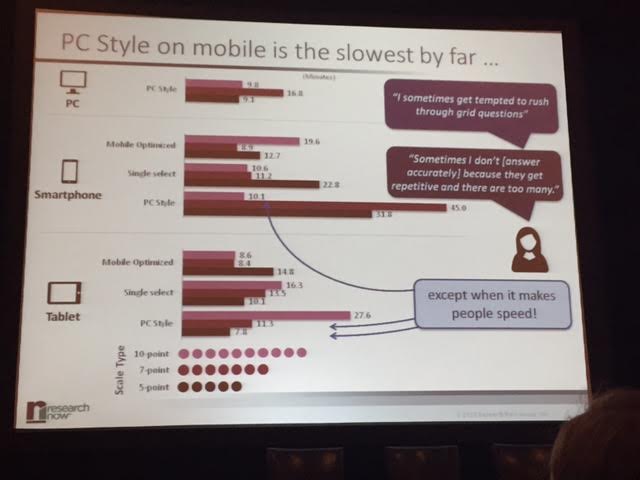 A More Beautiful Question
In a morning workshop, Warren Berger taught a captivated audience how to ask "A More Beautiful Question." "Questioning gets trained out of us" he says, "we focus on doing without questioning." Warren encouraged us to be more innovative by asking more powerful "why" questions, noticing what others miss, challenging assumptions, and questioning the questions we're asking to gain a deep understanding of the situation. The equation is simple: "Questioning + Action = Innovation!"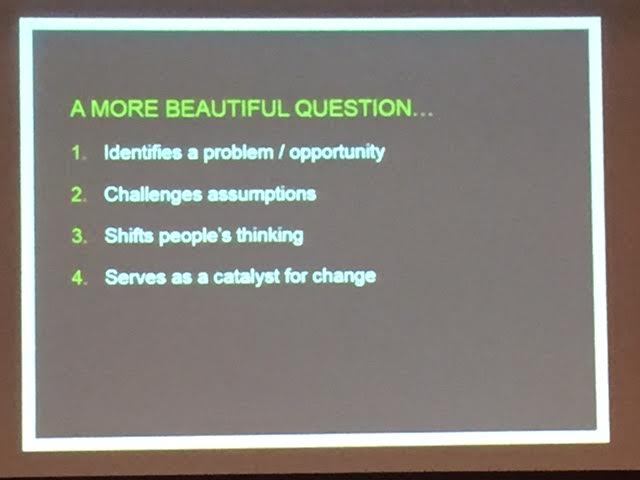 The IIeX Competition
The Insight Innovation Competition kicked off in the afternoon with this year's six finalists giving short presentations to the audience and a panel of judges, competing for a $25,000 prize! The competition is tough and so were the judges questions, but the presentations from OpinionsApp, EyeSee, SwayCo, Dataga_me, Metametrix and Fetch Rewards were compelling! Stay tuned for the announcement of the winner on Day 3.
Re-Thinking the Brand Tracker
In the afternoon, we settled in to the Nonconscious Impact Measurement track and heard first from Protobrand on rethinking the brand tracker. "Clients need real-time insights they can act on," which we know to be true not only as it relates to brand trackers, but to other research projects as well.
Getting Explicit on Implicit
Our own Aaron Reid got explicit about implicit research, giving a provocative talk about what it will take for us to see broad scale adoption of non-conscious impact techniques. "Sound science, market validation, and awareness of applications" are the keys to getting us there, said Dr. Reid. Fast explicit techniques are a great way to gain conscious insights from respondents, but only true implicit techniques which are not direct, deliberate, controllable self assessments will provide the kind of unique data that allow us to more accurately predict consumer behavior.
Don't Have Them Predict Their Own Behavior
Shortly after Dr. Reid's presentation, Cerita Bethea of Kimberly-Clark took the stage. "We are emotional, habitual, socially and culturally driven creatures" she said. Have you ever tried to articulate the process by which you do something that is otherwise automatic, like tying your shoe? Can you walk someone through the process with words alone and leave them with the perfect understanding of how to tie a shoe? We don't think so, and neither does Kimberly Clark. "We're no longer asking consumers to predict their own behavior… We're working with leaders in behavioral science" to change the way that Kimberly Clark does research.
Perhaps the most interesting aspect of the non-conscious impact session was the range in level of explanation by the speakers. We saw broad strokes from clients making the point that we need to understand the non-conscious, we saw scientific detail on methods including EEG and true implicit, and we saw real business applications of non-conscious research results for ad optimization, brand positioning, promotion optimization and more. We anticipate the non-conscious impact form in November in NYC will be able to advance even further on the themes explored today.
We're excited to see what Day 2 of IIeX NA 2015 will bring!