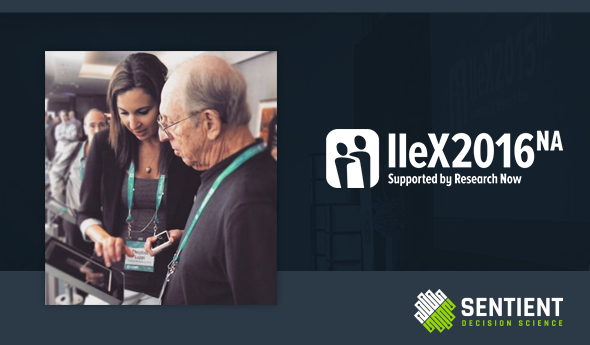 We're at the beginning of the fourth industrial age," Gregg Archibald declared at the start of 2016's North American Insight Innovation eXchange (IIeX 2016 NA). "The world is changing. What we're talking about this morning is these changes. How can [market researchers] play a role? How can we do it differently?
These questions were just two of many technology-focused probes put forth and discussed on Day 1 at IIeX 2016 NA. Machines are driving fundamental change in our industry so it's no surprise VR, AR, and automation took center stage. We heard several speakers say it's critical to stay on top of the latest and greatest.
But we already knew that, didn't we. The need to adapt to mobile and automation trends was a major theme at IIeX EU in March. And most of us are ready to admit the next machine-driven revolution is coming (or already here, depending on where you sit). It seems what we market researchers, we humans, are less certain of is where we belong in this revolution.
Here's how four different speakers explored the issue on Day 1:
Science Faction: Tomorrowland is Here Now
Ari Popper, CEO of SciFutures, prefers the possibilities of fiction rather than the limitations of present fact. Quite literally. His company analyzes science fiction stories to create preferred futures for Fortune 500 companies.
As an example, Popper talked about how sensor technology now lends people the "super power" to see non-visible light, radio waves, and magnetic fields much the way Superman did in the comics. And that's only the beginning.
"Executives might one day be able to put their hands on a table and feel the health of their company," he said.
Far out, right? Maybe not too far. Popper's sci-fi futures are always grounded in reality because they're rooted by humans.
"Science fiction is the intersection of people and technology," he noted. "That's where you get the narrative. That's where you get clarity."
Future Shock: How Powerful Forces are Transforming Market Research
The sci-fi theme continued as Melanie Courtwright of Research Now took the stage. In a presentation framed by the Star Wars universe, she discussed what a transformative force automation is for our industry.
But is it a force for good or ill? Courtwright's answer argued the positive.
"There's a fear that automation is taking the mind out of research, taking the humans out of research," she stated. "That's not true. There's always someone behind it, driving the knowledge."
Courtwright believes automation can only improve the quality of research. Error can't be helped when we do things in a manual way, she said. Automation not only helps us avoid error but provides us with distribution and scale.
"Automation brings empowerment. It gives you time to think about what the data means rather than getting it done quickly."
When we standardize inputs with AI we're then able to make way for storytelling—and that's when the data truly becomes powerful.
Fueling an Iconic Brand by Breaking the Rules of Insight Development
To hear that Harley-Davidson strives to be "the most customer-led company on the planet," you might assume they employ the sexiest and most expensive market research technology available for gaining customer insights.
Not so, said Heather Malenshek. Harley likes to break the rules.
"We put humans at the center," the director of global consumer insights stated. "We don't talk about customers. We think about them as people and we understand their stories. We think about them as fathers and sons and daughters. We don't do targeting."
Malenshek's session was a refreshing change of pace from all the tech talk. It's not as though we haven't heard about emotion at IIeX—Dr. Reid is presenting "The Politics of Emotion and Reason" on Day 2, in fact—we just haven't heard many clients or suppliers articulate it as a top research priority.
Leave it to Harley to ride against the grain.
"When we're doing insight development, we dig really deep and we look for core emotional truth," explained Malenshek. "We don't hire 'researchers,' we hire fresh perspective."
Time for a New Breed of Researcher?
If brands like Harley-Davidson don't want researchers, who does? Perhaps no one, proposed independent consultant Joan Lewis.
"Are market researchers moving toward extinction?" she asked.
As for the answer, well, that depends on the researchers. Those who cling to the old standards will surely go the way of the dinosaur. New methods and technologies are emerging all the time, and though it may be difficult to keep up it's in our best interest to try.
According to Lewis, we must choose to either be distracted or be disrupters.
"Embrace the chance. Expect and find ways to learn more, better, faster," she said. "I don't think market research is an endangered species, but one that resurges and reinvents and adapts."
Making our Sentient Prime implicit research technology global and mobile is just one way we at Sentient have embraced the changing market research industry. And our recent advancements have made the platform easier to use than ever. We are always advancing the science of MRX because, well, we're having too much fun to go extinct.
You have one more chance to catch Dr. Reid on stage, during Wednesday's GreenBook Research Industry Trends Panel at 10 a.m. in the grand ballroom. We hope to see you there!