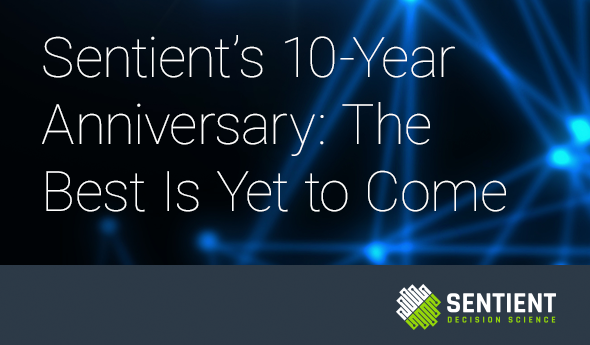 This year Sentient celebrates its 10 year anniversary.
It's an emotional milestone for any company, but as founder Dr. Aaron Reid has a Ph.D. in behavioral science with a focus in understanding emotion, asking 'How do you feel?' evokes an extremely thoughtful response.
"Relief," he laughs, "relief of making it 10 years. I mean who's creating companies that measure emotion and get access to the non-conscious? I know of only a few of us and it's high-risk. But we continue to grow, so I feel relief in the sense that what we're building here is real and there's a demand for it."
Sentient Is Not Just Surviving But Thriving
In June of 2016, we earned a spot on the GreenBook Industry Trends (GRIT) Report 50 Most Innovative Suppliers in Market Research list. The list ranks how well market research companies leverage innovation as a brand element. Suppliers are chosen based on perceptions of innovation within the global market research industry.
This debut marked a significant day in our history of making insight on emotions and access to the non-conscious practical for any researcher in the world.
Yes, anywhere.
As Dr. Reid discusses the auspicious anniversary, his focus often flits to the monitor mounted in Sentient's common room. The display features the world map from WhereIsSentientPrime.com, which pinpoints areas in the world where Sentient's implicit research platform, Sentient Prime, is measuring non-conscious processing and human emotion relating to brands, promotions, products, or advertising.
The platform is open to any researcher anywhere on the globe on any smart device.
"The map is just a continual daily reinforcement for me of our global reach and our global impact," explains Dr. Reid. "Every moment we measure someone's non-conscious a dot lights up on that map. And if you look at that map right now, we're all over the globe."
As he's talking, bright green dots pulse in the United States, the UK, Dubai, Spain, Korea, China, Thailand.
It's hard for Dr. Reid to point to just one advancement as Sentient's greatest success in the last decade. But opening up the non-conscious mind to anyone in the world who wants access to the human subconscious? That's one of them.
"I still feel a sense of wonder," he admits. "We're measuring 1,000 people in South Korea right now. We're measuring their nonconscious associations, and that's really awe-inspiring. And that's coming into our database and we're getting insights on how they feel."
Dr. Reid hopes Sentient's technology produces the same sense of wonder in our clients. He also wants the database to inspire confidence once its time to get down to the brass tacks of how Sentient can improve their business.
Sentient Prime is the largest subconscious research database in the world. Over 100 million subconscious associations were measured all over the globe just in the last year alone, making Prime a tremendous asset we can tap into to gain an advantage over the competition.
But That's Only Half the Story
"I think the real key to how we provide unrivaled business advantage is the passion that our people have, of getting to the essence of things. of really understanding the essence of human, and therefore consumer, behavior.
"We don't just design questionnaires and say, 'Here's your data. Here you go.' We're designing behavioral science experiments. The thought that goes into the design is deep, but also has a breadth in its application. And the team has that in its core."
Which is what makes Sentient a rare scientific firm that is excellent at advancing business. By getting to the essence of human behavior and learning why people really do what they do, Sentient can provide insights about drivers of human behavior that can be used strategically to differentiate companies from their competition.
"It's really about creating something novel and that goes back to our mission of advancing human knowledge," he explains. "We love creative expression, we love beautiful expression, and eloquence in expression.
"We also love that deep thinking in producing something new. New knowledge for our clients and new knowledge for humans. So hopefully you see that in our work output when you work with Sentient."
Dr. Reid believes this mission has helped the company become more than just a research firm. Instead, we're a company that's changing the industry and even inspiring the competition to do better work.
And the Best Is Yet to Come
Dr. Reid's excitement for the future of Sentient Decision Science is palpable. A slow smile spreads over his face as he describes his vision for the next decade.
"You're going to see that [Sentient Prime] map lit up all over the globe, every day of the year within the next 10 years. The need and desire to understand human emotion is only going to grow. Artificial intelligence is becoming emotionally intelligent and Sentient Prime is able to contribute within that space.
"I also see application for the measurement of emotion enabled by our platform in direct-to-consumer products. It's making technology emotionally intelligent. Clients in that case become an individual person trying to better understand human behavior, trying to understand how things that they will do will be perceived in their world."
Here, advancing human knowledge becomes applied at the individual level. Sentient would be helping people understand why they do what they do; helping them understand how their non-conscious influences their behavior and using their conscious to correct the behavior that they may not want to engage in, or reinforce behaviors that they do want to engage in.
"Those are big broad goals and the potential outcome of making technology available in the world for everyone who wants to understand the making of the non-conscious is tremendous," he admits.
Luckily, we have an incredible staff of scientists, analysts, and developers on hand. And they're all creative people who are intellectually, emotionally engaged in their work. It's obvious that the boss prizes these attributes and is grateful for them, just in the way he thanks them by name when presenting studies at conferences.
"It's easy for us to get mired down in the work of crunching data and producing reports and lose sight of our broader impact that we're having on the industry and ultimately what we're going to have on the world," Dr. Reid says, "so my message to the team is, thank you.
"Thank you for all of the work you're doing, but the best is yet to come. We're just getting started."