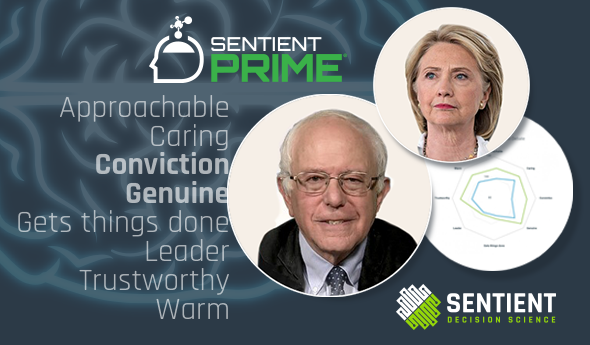 On Wednesday night we're running a Republican debate implicit impact study. With Ben Carson surging in national polls, it will be interesting to see how implicit perceptions of his candidacy compare against Donald Trump, and other GOP candidates.
A Deep Dive into Our Democratic Debates Data
Ahead of that study, we thought we would provide more insight from the implicit data we collected from the Democratic debate to illustrate the unique power of Sentient Prime® implicit associations in capturing meaningful attitudes that people are either unwilling or unable to admit.
Some of our earliest work in the application of implicit association to human decision making models focused on reactions to political candidates. It has always been fascinating to have implicit insight into the emotional reactions of voters and further to see how those emotions relate to voter behavior.
Subconscious Perceptions Reveal Drivers of Voter Behavior
But for experienced researchers in the non-conscious space, the deep insight comes from seeing how strong ideological attitudes light up Sentient Prime neural network association maps revealing new knowledge on the drivers of voter behavior.
In our study of the first Democratic debate, we saw Hillary perform well in a few key important areas and we saw Bernie Sanders enjoy a significant boost in implicit favorability and a halo effect across eight presidential attributes. But perhaps more interesting were the results we saw when splitting the data across party lines.
Implicit Associations Across Party Lines
Looking at the Sentient Prime Implicit (SPI) index scores for Hillary Clinton, we see that implicit favorability follows stated liberal to conservative leaning attitudes. Bernie Sanders implicit associations are similar, though importantly for Clinton, the implicit scores are equally as high among liberals, and trending higher among moderates and conservatives.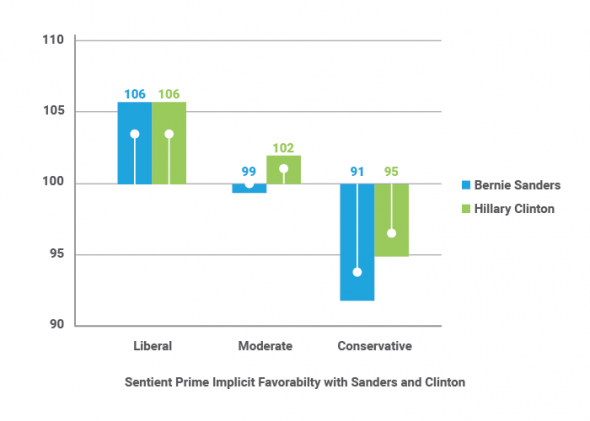 So Why Do Some Conservatives "Like" Bernie?
Yet, there is still something about Bernie Sanders that is attractive, even to the conservatives in our sample. When we looked at the implicit self-identification data with each of these candidates a more nuanced picture emerged.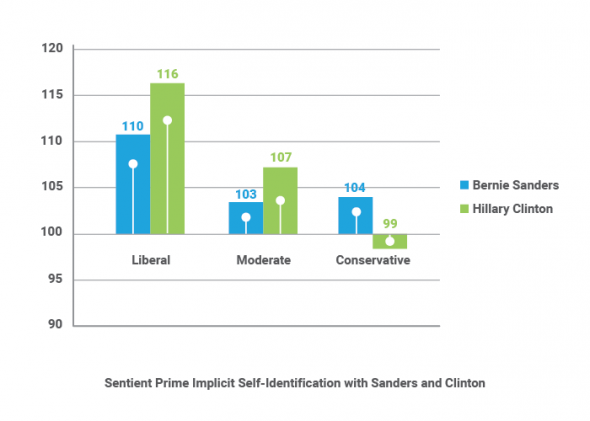 Interestingly, conservatives are equally as likely to self-identify with Bernie Sanders as moderates, and significantly more likely to self-identify with Sanders than Clinton.
We found that result to be very intriguing, so we dug a little deeper into the Sentient Prime subconscious data to investigate the drivers of self-identification with Bernie Sanders.
Self-Identification With "Genuine" and "Conviction" Give Bernie an Edge
First, there was some dispositional influence on self-identification with Sanders. A gender effect analysis revealed that men were significantly more likely to identify with Bernie Sanders (107 SPI) than women (103 SPI).
But interestingly for Hillary, this did not represent a gender bias. Men and women were equal in self-identification for Clinton (106 SPI male, 108 SPI female). This is a significant finding given that self-identification is a strong predictor of behavioral loyalty.
But beyond gender, we wondered if there might be attitudinal impressions of Sanders that would be related to voter self-identification with him as a candidate. To illustrate those relationships, we split the self-identification data to form high and low groups and tested for differences in implicit attribute associations.
Interestingly, the data revealed that the biggest gaps in implicit perceptions were on two key attributes: genuine and conviction.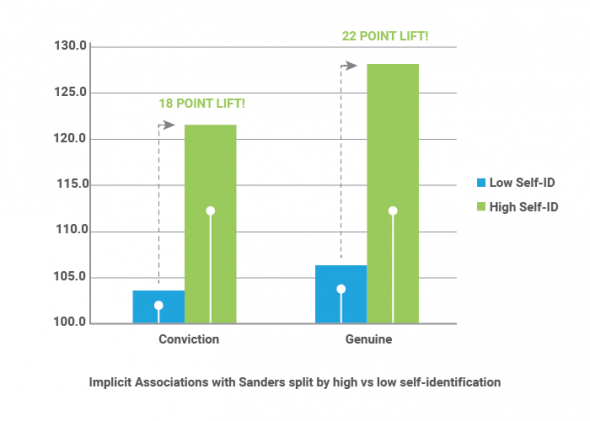 Among those who highly self-identify with Bernie Sanders the SPI index score of 128 for genuine marks the highest score for either candidate in the study, and the 122 SPI for conviction with Bernie Sanders is higher than any score for Clinton.
Genuine Conviction:Values that Cross Party Lines
Genuine conviction. Those attributes seem to be something that conservatives can relate to even in a liberal candidate. It will be interesting to see in the GOP debate Wednesday night which candidates best embody these attributes among Republican candidates and whether liberals can relate to those attributes even in a conservative candidate.
Check back in here on Thursday morning to see the Sentient Prime implicit impact of the Republican debate.
Want to Participate in our GOP Debate Study?